About Bastrop State Park
About an hour drive east of Austin, this 6,000 acre natural wonder WAS blanketed by a dense forest of loblolly pines, post oaks and junipers. Why the big "was" in capital letters? Well, because in 2011, 96% of the park was burned by the Gastro County Complex fire. Thankfully, most of the park's structures were preserved and the 18-hole golf course was left largely unharmed. At the time of the park's reopening in 2012, an organization called Friends of the Lost Pines was created with hopes to restore the forest by replanting four million trees over the course of the next 30 years. Despite the loss of vegetation, Bastrop State Park's biodiversity has remained relatively stable as it continues to provide a home for white-tailed deer, virginia opossums, rabbits, squirrels, nine-banded, long-nosed armadillos (try saying that 3X fast!) and the largest mating group of endangered Houston toads. Other popular activities in the park include hiking, biking, canoeing, swimming and fishing.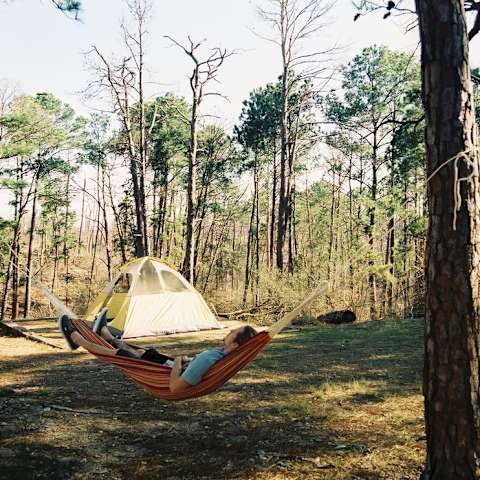 Texas: Smaller park but great campgrounds. The sites are a little close to one another without much privacy...
2 Reviews
No one? Bueller? Sharing is caring, y'all.
Drop some
Bastrop
knowledge on us.
Smaller park but great campgrounds. The sites are a little close to one another without much privacy in between. If you are looking for a more private setting check out Bastrop's neighbor, Buescher State Park.
Remove vote :(
The description should be updated to include the fact that the Memorial Day 2015 flood broke the dam and the lake is no more. It's a pretty depressing sight. I loved camping in Bastrop as a kid. It's such a different experience now with nearly no forest and no lake.
Deer Run is the best campground in my opinion. Sites 27-30 have no trees at all and a lovely view of RVs, but 27 and 28 are handicap accessible and RIGHT next to the playground (and bathrooms). If you are camping with young children who need supervision, these are great spots since you can sit at camp while they play. Otherwise, aim for sites 32-34 or 37-42 for trees and a more natural view. But you can hear the highway everywhere.
Remove vote :(
History of Bastrop State Park
Bastrop State Park is approximately 6,600 acres; approximately 30 miles southeast of Austin in Bastrop County. It is the site of the famous "Lost Pines," an isolated timbered region of loblolly pine and hardwoods. The park was acquired by deeds from the city of Bastrop and private owners from 1933 to 1935; the park opened in 1937. Additional acreage was acquired in 1979. Buescher compliments this pre­serve with an additional 1,017 acres.
Through time people have recognized the value of this abundant natural resource. In addition to the presence of critical resources, a convenient river crossing made this a likely place for early settlement.
The important Spanish travel route known as El Camino Real traversed through the area and aided in the early colonization of Texas.Portions of this historic road run through the park's boundaries, earning Bastrop State Park a designation as part of the El Camino Real de los Tejas National Historic Trail. Bastrop State Park is one of the few public areas in Texas where visitors can visit this historic road.
The town of Bastrop, formerly known as Mina when estab­lished in 1832, is believed to be one of the oldest towns in Texas. The natural resources of the area were important to regional development; timber harvest of the loblolly pines fueled construction in nearby Austin and San Antonio. Some of the Bastrop timber was exported as far as northern Mexico.
In 1933, the National Park Service (NPS), the Civilian Conservation Corps (CCC) and the Texas State Parks Board (now the Texas Parks and Wildlife Department) joined hands to design and construct buildings and facilities in many Texas parks. The architect of Bastrop State Park, Arthur Fehr, followed National Park Service design principles that suggested harmony with the surrounding landscape of rolling hills and pine forests and use of native materials for construction. The stone cabins at Bastrop appear to grow out of the ground like a natural outcrop. The same non-intrusive design elements were followed for dams, culverts, bridges and fences. Similar design concepts can be seen in other parks around the nation. Bastrop's refectory is a show­place of CCC craftsmanship. Cedar, oak, walnut and pine indigenous to the park and red sandstone quarried nearby come together in an attractive stone structure featuring carved mantles, roof beams and handmade furniture.
In 1997, Bastrop State Park was awarded National Historic Landmark status, due largely to the enduring craftsmanship and landscape work done in the park by the CCC. It is one of only seven CCC parks in the nation with this recognition.