About Stephen F. Austin State Park
Though we like to imagine a wing-eating contest deciding the fate of the Lone Star state... It all started back in the day when a group of 297 families led by Stephen F. Austin (the guy who the park, the capital of Texas and a whole bunch of other things is named after!) colonized along the Brazos River. These lands were, and still are unique in their proximity to wetland aquatic and hardwood forests. Go for a short hike to the Brazos River, and try your hand at primitive angling, (catfish for dinner?), enjoy six miles of hiking and biking, or simply gaze at the diversity of surrounding wildlife. Or, go completely left field and hit up the Stephen F. Austin 18-hole Golf Course available to visitors! What's a birthplace of a state without an all-American golf course? Make your visit in May or June and you'll get an extra treat--an abundance of fireflies light up the horizon just as it gets dark in the evening. You thought we were going to say the annual wing-eating contest, didn't you?
Campgrounds in Stephen F. Austin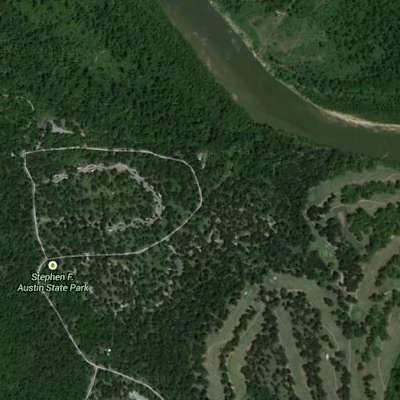 Come one, come all! At Stephen F. Austin Campground, take your pick from 40 pull-through, full hook-up RV sites and tent campsites, 20 screened...
6 Saves
Reviews
No one? Bueller? Sharing is caring, y'all.
Drop some
Stephen F. Austin
knowledge on us.
History of Stephen F. Austin State Park
Stephen F. Austin State Park, in Austin County, was deeded by the San Felipe de Austin Corporation in 1940, and the park was opened to the public the same year.
The park is located on the Brazos River, near the old ferry site and a part of the Commercio Plaza de San Felipe, just a few miles from the site of the township of San Felipe, the seat of government of the Anglo-American colonies in Texas. It was here Stephen F. Austin, the "Father of Texas," brought the first 297 families to colonize Texas under a contract with the Mexican government. From 1824 to 1836, San Felipe de Austin was the social, economic and political center, as well as the capital of the American colonies in Texas. Due to the many historic events that occurred here, the community became known as the "Cradle of Texas Liberty." Also, the conventions of 1832 and 1833 and the Consultation of 1835 were held here. These meetings eventually led to the Texas Declaration of Independence. San Felipe was the home of Austin and other famous early Texans, as well as the home of Texas' first Anglo newspaper (the Texas Gazette, founded in 1829), the postal system of Texas origination, and the beginning of the Texas Rangers.