About Pace Bend Park
Nine miles of shoreline in dry, arid central Texas might have you asking "did I just read that right?". Why yes, yes you did. So much lakeside real estate for boating, swimming and other water activities it's hard to believe; you'd have to be a few Fruitloops short of a full box not to stop by and check out this 1,368-acre water wonderland. The Tootsie Pop-shaped park is easily accessed on the outside thanks to a looping six-mile paved road, however the sweet reward of the park's interior takes a bit more work to uncover; hike, bike or ride horseback past limestone cliffs, rocky coves, tallgrass prairies and wooded savanna to uncover the secrets of the wildlife reserve within. Don't forget to bring the charcoal for a majestic sunset grill-out! The best, most breathtaking views are on the west side of the park overlooking Travis Lake.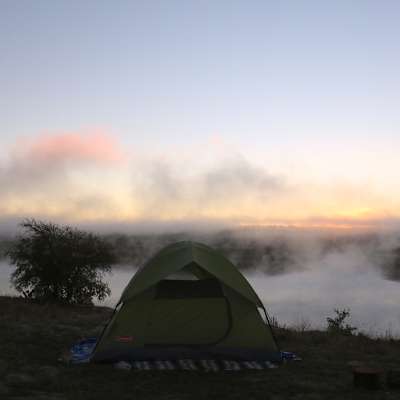 100% Recommend (6 Campers)
Old school or new school, classic or modern, Backstreet Boys or One Direction? These are the types of deeply philosophical questions you'll want to...
70 Saves
9 Reviews
No one? Bueller? Sharing is caring, y'all.
Drop some
Pace Bend
knowledge on us.
History of Pace Bend Park
Pace Bend Park is located in far western Travis County in the Hill Country of central Texas. With more than nine miles of shoreline along scenic Lake Travis, Pace Bend is one of the most popular areas in the Highland Lakes region, offering visitors a wide range of recreational opportunities. The west side of the park features high, limestone cliffs and numerous rocky coves with some of the most impressive views available of Lake Travis, especially at sunset.
Most of Pace Bend Park is easily accessible by vehicle from the seven-mile, paved roadway that loops the park. However, the interior of the park is managed as a wildlife preserve and can be reached by foot, bicycle, or horseback only. Numerous trails lead into the hills and provide excellent views of the lake and the Hill Country. This area serves as home to a large number of whitetail deer, raccoon, fox, ringtail cat, and dozens of bird species.