About Salt Point State Park
This 6,000 acre park lies on a beautiful stretch of the Sonoma County coast. There are panoramic views, rocky promontories, kelp-dotted coves and the dramatic sounds of the pounding surf. There are also pygmy forests, open grasslands, forested hills and pristine prairies. Did we mention, this is all within one park? There is an equally large variety of recreational activities ranging from hiking to SCUBA/abalone diving to horseback riding. There is usually a chill in the air, but what a beautiful place it is!
Campgrounds in Salt Point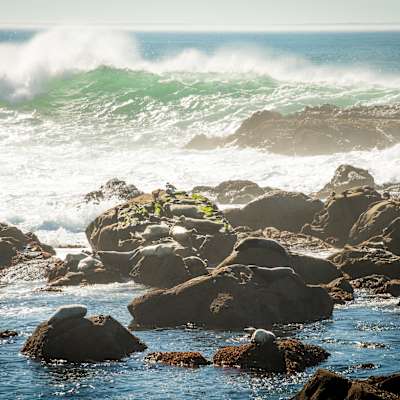 97% Recommend (16 Responses)
Ever dreamed of unzipping your tent to a rugged coastline with insane ocean views? Yeah. . . us too! You're in luck, Gerstle Cove is the place to...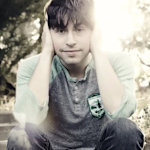 Kiran: Love this campsite! If you go during the week it feels extra quiet and secluded. You can even hear sea lions faintly barking...
154 Saves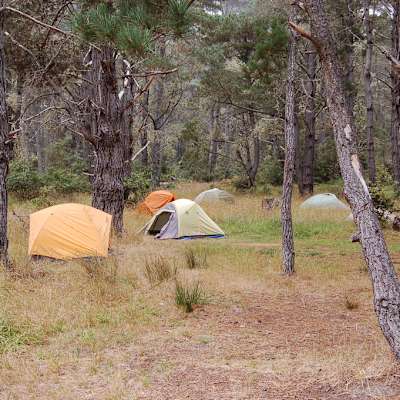 100% Recommend (12 Responses)
What's that amidst the shady pines of Salt Point State Park? It's Woodside Campground and we're not gonna lie, it's pretty good looking. There are...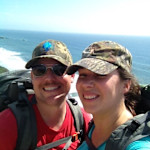 Courtney: Nice space between sites. Good spots: 96 (one tent space only), 99, 101, 102, 103, 104, and 109. Convenient to the beach if...
29 Saves
17 Reviews
No one? Bueller? Sharing is caring, y'all.
Drop some
Salt Point
knowledge on us.
History of Salt Point State Park
The earliest known native residents the Kashaya Pomo people—occupied an area just north of Stewarts Point to just south of what is now the Russian River. From the coastline, their lands extended inland about 30 miles.
The Kashaya Pomo are expert artisans whose exquisite basketry graces museum collections all over the world. Historians estimate that at the time of the first Spanish contact, the Kashaya Pomo numbered about 1,500 people, occupying several large villages.
Summers were spent fishing along the coast; in late fall the Kashaya moved inland to hunt and to reoccupy their winter villages. Over the years, the Kashaya Pomo people have been able to preserve much of their traditional culture. Today many Kashaya descendants occupy a rancheria near Stewarts Point as well as other areas near Fort Ross.
On April 8, 1846, Ernest Rufus received a Mexican land grant for 17,500 acres along the coast. The area, called Rancho German, encompassed the land from about six miles north of Fort Ross to the Gualala River. The southern portion of the rancho included what is now Salt Point. Beginning in 1849, the land changed hands several times, becoming the site of several active sawmills from 1853 to 1859. Lumber was shipped on schooners to San Francisco. In 1870, the southern section of Rancho German was sold to Lewis Gerstle and Frederick Funcke to mill tanoak and other hardwoods. They built a hotel in 1872 and surveyed the westernmost section of their ranch for the plat of a town they named Louisville
After the sawmills ceased operations in 1876, the land was transitioned to grazing livestock as its primary use.