About Palmetto State Park
Central Texas or Peruvian Amazon? Though the surrounding forestry and plants would lead you to believe the latter, the former is where this 270-acre state park is truly located. Along the San Marcos River, the landscape is lush with green foliage and filled with tropical dwarf palmettos, which may or may not have something to do with the park's title... There are no shortage of exhilarating activities to take part in here with camping, hiking, fishing, picnicking and birding a-plenty among the verdant surroundings. Swimming, tubing, pedal boating and canoeing are other fun activities available to park goers on the four-acre Oxbow Lake or in the low rapid, steady current waters of the San Marcos. If you do venture down river, be sure to note where the put-in/take-out points are, unless you want to eventually find yourself in the real Peruvian Amazon!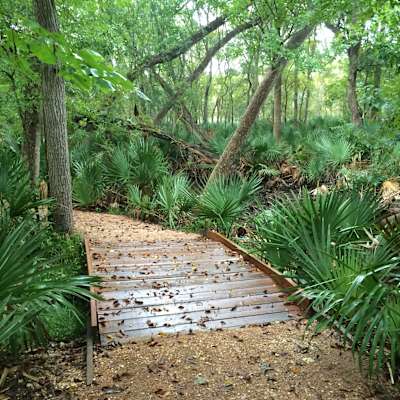 What better way to get after a beautiful day than a gorgeous sunrise hike on the San Marcos River Trail? At sites 1-19, you'll be ready to go after...
24 Saves
3 Reviews
No one? Bueller? Sharing is caring, y'all.
Drop some
Palmetto
knowledge on us.
History of Palmetto State Park
Palmetto State Park, named for the tropical dwarf palmetto plant found there, is 270.3 acres located in Gonzales County, northwest of Gonzales and southeast of Luling. The park abuts the San Marcos River and also has a four-acre oxbow lake. The land was acquired by deeds from private owners and the city of Gonzales in 1934 to 1936, and was opened in 1936. The beautiful stone buildings in the park were constructed by the Civilian Conservation Corps during the 1930s.