About Anza-Borrego Desert State Park
Anza-Borrego Desert State Park, the largest state park in California, is nothing short of breathtaking. The word "desert" usually calls to mind a dry and barren landscape, but this park blooms with color, life and beauty. You can enjoy a day trip or an overnight stay in one of the 147 campsites for amazing Anza-Boreggo Desert State Park camping. The park has 500 miles of dirt roads, 12 wilderness areas, countless miles of hiking trails and plenty of California desert to share with its visitors. The desert here, much to our delight, is surrounded by mountain ranges. The heat of the desert is worth it when you are rewarded with views of mountains reaching towards the desert sky. Although in most seasons, the park is known for dusty trails and sandy camping sites, in the springtime you can catch brilliantly colored wildflowers peeking out from the desert floor. During most other seasons, expect to spot traditional desert cacti poking around the park. The best part of the park, however, comes out at night. Unspoiled by artificial light, stars brighten up the desert sky and bring a sense of calm that visitors can celebrate after a long day of hiking. The famous Pacific Crest Trail even passes through the Anza-Borrego State Park. Don't think this park is all desert, though. Plenty of surprises lurk about here. Our personal favorite is the palm tree oasis. The oasis, located in the middle of a hiking trail, is a true paradise for those who have been in the desert's heat all day. The oasis consists of a hub of palm trees providing shade next to a small creek that we bet you'll end up skipping, running, jumping or wading into. Last one there's a rotten egg (or maybe just a sweaty hiker)!

Campgrounds in Anza-Borrego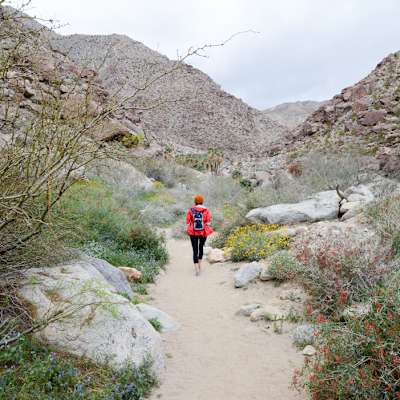 95% Recommend (29 Responses)
A great place for Anza-Borrego Desert State Park camping is at the Borrego Palm Canyon Campground. Don't let the vast 122 available campsites fool...
Sarah: Definitely get one of the ramada sites, which includes a wood structure, a picnic table or two, and a neat old corner...
76 Saves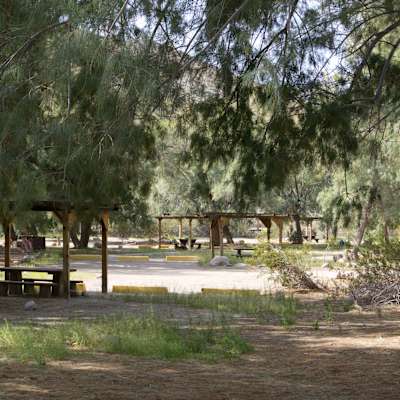 83% Recommend (6 Responses)
A smaller campground option for Anza-Borrego Desert State Park camping is at Tamarisk Grove campground. With 27 campsites, 11 of which are cabins,...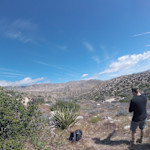 John: Pretty close to other camps
4 Saves
17 Reviews
No one? Bueller? Sharing is caring, y'all.
Drop some
Anza-Borrego
knowledge on us.
History of Anza-Borrego Desert State Park
Founders of the California state park system believed the state had a duty to preserve several desert areas for future generations. The Anza-Borrego Desert was selected as being representative of the typical wild and beautiful California deserts because it was believed that certain natural and historical features made it particularly valuable as a park site. In 1932 several prominent San Diegans donated both land and money to help make the park a reality.
They hoped to extend the proposed park to a million acres, stretching from the Mexican border north to Mount San Jacinto and from the Salton Sea west to the Laguna Mountains. There also were those who had a more utilitarian outlook. Proponents of the park extension met unexpected opposition from the San Diego County Board of Supervisors, who were concerned with the future economic development of the county. The Supervisors believed the lands within the proposed park extension could be put to better use than "maintaining it as a desert waste." A three-year struggle ensued, the result of which was the formation of a smaller park, although it is the largest state park in the nation.
The park is named after the 18th century Spanish explorer, Juan Bautista de Anza and borrego, which is the Spanish word for bighorn sheep.