View 18 photos
Hillside Bush Getaway, New South Wales
98%
Recommendation based
on
55 responses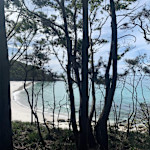 About
Situated on 40 acres of natural bushland with an abundance of wildlife and birds. We are located an easy 15 minute drive from the stunning south coast beaches Huskisson and of Jervis Bay, and 10 minutes south of Nowra.

I've done lots of caravanning myself and always loved a place like this to spend a few nights. It's quiet, safe to leave your van here and go out in the day and explore the area. It's the pefect base to explore the Jervis Bay area, there is lots to see and do...or you may decide to do nothing but sit around, relax and take in the peaceful surrounds.

We don't offer any amenities so our place suits campers who have own toilet and shower and leave no trace. Leave the site as you found it. Grey water ok on the ground.

Dog friendly, please keep them on the lead and well controlled. Campfires permitted
Read more...
Situated on 40 acres of natural bushland with an abundance of wildlife and birds. We are located an easy 15 minute drive from the stunning south coast beaches Huskisson and of Jervis Bay, and 10 minutes south of Nowra.

I've done lots of caravanning myself and always loved a place like this to spend a few nights. It's quiet, safe to leave your van here and go out in the day and explore the area. It's the pefect base to explore the Jervis Bay area, there is lots to see and do...or you may decide to do nothing but sit around, relax and take in the peaceful surrounds.

We don't offer any amenities so our place suits campers who have own toilet and shower and leave no trace. Leave the site as you found it. Grey water ok on the ground.

Dog friendly, please keep them on the lead and well controlled. Campfires permitted when restrictions aren't in place, wood around to gather your own.

The road is sealed all the way to front gate. After the gate is fairly smooth unsealed.

IMPORTANT! Directions to my place are a bit tricky so check MY TRIPS in your profile once your booking is confirmed.
Hmmm we couldn't find any listings within Hillside Bush Getaway that match your search criteria. Try removing filters or zooming the map out and searching again.
---
Places to see near Hillside Bush Getaway