About Russian Gulch State Park
Really, what doesn't Russian Gulch State Park have? The 7,630 feet of heavily forested rocky shores that make up the area are ruggedly gorgeous. They also feature the Devil's Punch Bowl (a large, collapsed sea cave with churning water), tide pools, and a beach where you can swim, skin dive and go rock fishing. Did we mention there is also a waterfall? Hikers rejoice, there are miles of quality trails and even a few paved bicycle trails. Also, look out for the "blow hole," which cannot be missed when the surging high tide comes in.
Campgrounds in Russian Gulch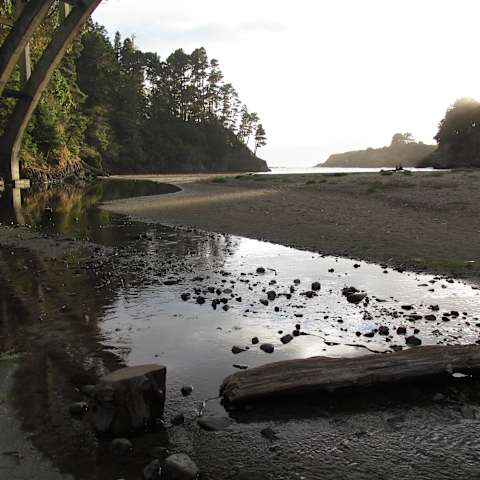 Lori: Campsite #25 is the most private spot as it doesn't face any other spots and is bordered on both sides...
6 Reviews
No one? Bueller? Sharing is caring, y'all.
Drop some
Russian Gulch
knowledge on us.
History of Russian Gulch State Park
Russians who established Fort Ross in 1812 were probably the first white men to explore and chart this area. It is believed that U.S. government surveyors later gave the name "Russian Gulch" to the area 50 miles north of Fort Ross to honor these early pioneers.
In 1852 Harry Meiggs, a San Francisco engineer and promoter, erected a sawmill at Big River. This was the start of redwood lumber industry on the Mendocino Coast.
Soon other mills were popping up in all the little inlets, or "dog holes" as they were called. Since the sea was the only means of travel, these dog holes such as Russian Gulch were regular stops for the little schooners traveling from San Francisco to Humboldt Bay. They would bring freight and passengers on the way north and pick up lumber and passengers on the way back.
This was a very dangerous operation in bad weather, and many of the little ships were lost. Some of the old iron rings used to hold the high lines that loaded lumber on the ships can be seen anchored in the rocks along the headlands.
Redwood was considered excellent material for railroad ties, and Russian Gulch produced many of the ties used on the transcontinental railroad. Shingles were also produced here . One of the first redwood shingle mills in this part of the country was built on the site where the recreation hall stands today.
Russian Gulch State Park was acquired in 1933 through gifts of land and money by A. Johnston and the County of Mendocino to match State Park funds.