View 218 photos
Snaggy Mountain Music and Arts, North Carolina
99%
Recommendation based
on
114 responses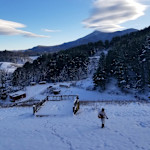 About
Snaggy Mountain is 67 acres of mountain land operating as both as an organic farm and a musicians/artists retreat. The property consists of three secluded valleys, each with grassy hills surrounded by forests. The first valley is like a little village featuring the main house, the farm, multiple private art studios, and a solar powered music studio/stage. Entering up into the next valley you'll pass a teepee and then walk up the old road and pasture towards two massive black walnut trees and a small writers cabin on the hill top. The third valley is the most heavenly part of the farm, and it's home to the apple orchard campsite. Imagine a grassy a knoll on mountainside surrounded by apple trees and a patch of old growth forest looking straight towards a breathtaking view of the Black and Blue Ridge Mountains. For a campsite it's
Read more...
Snaggy Mountain is 67 acres of mountain land operating as both as an organic farm and a musicians/artists retreat. The property consists of three secluded valleys, each with grassy hills surrounded by forests. The first valley is like a little village featuring the main house, the farm, multiple private art studios, and a solar powered music studio/stage. Entering up into the next valley you'll pass a teepee and then walk up the old road and pasture towards two massive black walnut trees and a small writers cabin on the hill top. The third valley is the most heavenly part of the farm, and it's home to the apple orchard campsite. Imagine a grassy a knoll on mountainside surrounded by apple trees and a patch of old growth forest looking straight towards a breathtaking view of the Black and Blue Ridge Mountains. For a campsite it's hard to beat.
Depending on time of year there around 12 people living here, usually around 6-8 folks doing artist residencies and then 3 or 4 folks running the farm. . The people living here are pursuing a lifestyle in the arts or sustainability. We also have dogs, cats, ducks, chickens and cows.
The town of Burnsville is only a 5-8 minute drive and its a quaint little mountain town but with multiple grocery stores, restuarants, stores, galleries and a rich artistic culture. We're just about 35 minutes from the culturally vibrant Asheville and just 1 hour from the artsy college town atmosphere of Boone.
The farm is old family land owned originally by my great, great grandfather. About 40 years ago my grandfather had a dairy farm out here, eventually that ended and the land sat more or less abandoned until 2012 when I (Jared) moved out here and beganbuilding a place revolving around music, arts, sustainability and community. It's been a fascinating ride and the best part has been hosting all of the inspiring people who are out exploring and making dreams come true.
Learn more about this land:
Wake up on private knoll with breathtaking view of the Black and Blue Ridge Mountains. The site has a fire-pit, chairs, a camp table and a big old bus for shelter.  It can be accessed easily with 2wd, has plenty of privacy, and is located not a far walk above the communal house where you can use the bathroom/shower.  Keep in mind the bathroom is a communal space shared with other guests.
Hmmm we couldn't find any listings within Snaggy Mountain Music and Arts that match your search criteria. Try removing filters or zooming the map out and searching again.
---
Places to see near Snaggy Mountain Music and Arts