About Malibu Lagoon State Beach
Don't let the Malibu in the title lead you astray - Malibu Lagoon State Beach offers an incredible getaway on the SoCal beach perfect for the surfing fanatic and wildlife enthusiast. Sticking with the Southern California stereotype, the park is particularly famous for Surfrider Beach, where surfers alike conglomerate on one of California's premier surfing beaches. Malibu Lagoon also has Malibu Pier - a haven for anglers and those who love the simple pleasures of lounging on a typical SoCal pier. You can enjoy this confluence of sand and wetland to no end, whether that means observing the surfers, touring the lagoon, luxuriating on the pier, or all of the above.
Campgrounds in Malibu Lagoon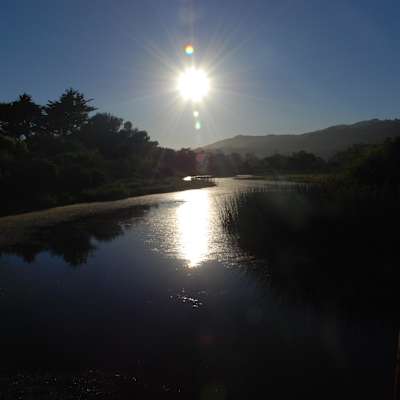 Malibu Lagoon State Beach Campground offers 57 campsites, half of which are designated to just tent camping. All the normal amenities are...
Gracie: This doesn't exist. Via this recommendation page my friends and I drove up only to find that there aren't even camp grounds...
45 Saves
9 Reviews
No one? Bueller? Sharing is caring, y'all.
Drop some
Malibu Lagoon
knowledge on us.
This doesn't exist.
Via this recommendation page my friends and I drove up only to find that there aren't even camp grounds here.
So yeah, don't go here unless you want to not camp.
Helpful 3
Helpful 3
Remove vote :(
Parking is by far the worst part of park, but we have found that there is some great free parking on Malibu Road, behind the plaza where Ralph's is located.
Helpful 0
Helpful 0
Remove vote :(
The Adamson House, located nearby, is a great stop if you want to head somewhere indoors and get some insight into early twentieth century homes and the wealthy family's lifestyle in those times.
Helpful 0
Helpful 0
Remove vote :(
This park is known to host not only wildlife and surfers, but celebrities as well! If that's what you're into, then you are bound to run into at least one if you stay long enough...
Helpful 0
Helpful 0
Remove vote :(
This campground DOES exist but it's in MALIBU CREEK STATE PARK at Malibu Canyon Road & Mulholland Hwy.
Turn up from PCH at Pepperdine University and it's about 6 miles inland. The tv series M*A*S*H was shot in the park which used to be 20th Century Fox's 'back lot'.
History of Malibu Lagoon State Beach
For Frederick Hastings Rindge, owner of 22 miles of Southern California coast, life in the Malibu of a century ago was divine. "The ennobling stillness makes the mind ascend to heaven," he wrote in his memoir, Happy Days in Southern California, published in 1898.
Long before Malibu meant good surfing, a movie star colony and some of the most expensive real estate on earth, "The Malibu" was a shorthand name for Topanga-Malibu-Sequit, an early 19th-century rancho. This rancho extended from Topanga Canyon on the southeast to Ventura County on the northwest, from the tideline to the crest of the Santa Monica Mountains.
This beautiful locale attracted the attention of a wealthy Massachusetts businessman, Frederick Rindge, who was looking for an ideal spread "near the ocean, and under the lee of the mountains, with a trout brook, wild trees, good soil and excellent climate, one not too hot in summer."
Rindge bought the ranch and proceeded to divide his time between a townhouse in Los Angeles, from which he directed his business affairs—and his beloved rancho. The New Englander-turned-ranchero gloried in rounding up cattle, inspecting citrus groves and walking his St. Bernard along his many miles of private shoreline.
Alas for Frederick Rindge, his happy days ended rather abruptly when a 1903 fire burned his property. He died just two years later. His widow, May Rindge, decided to keep the rancho intact and to keep the public out of her coastal kingdom. Armed guards patrolled the dominion of the woman the newspapers called "The Queen of Malibu." For more than three decades, she not only stopped tourists and settlers, but blocked the state from completing Pacific Coast Highway. Eventually, however, the whole rancho was subdivided into ocean front lots and 100-acre "ranchos," as well as sites for hotels, yacht clubs and small summer homes.