View 28 photos
100%
Recommendation based
on
3 responses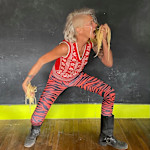 About
Enjoy this renovated school bus! My place is walking distance to art galleries, restaurants, coffee shop, live music, good food, a local tavern and great people. There are hiking trails just out the front door. Madrid is a small village of free spirits of all stripes. The Sweet Bus is a great place to enjoy our little village or venture 30 minutes to Santa Fe or 45 minutes to Albuquerque. Remember there is no shower, but Ten Thousand Waves Spa is in Santa Fe if you want a cleansing experience.  Madrid is a town of creativity. Travel the scenic Turquoise Trail and experience the village of Madrid nestled in a narrow canyon in the Ortiz Mountains. Once a historic coal mining town and ghost town, Madrid is now a creative community with over 40 shops and galleries, several restaurants, a bar and museum. A couple miles north is the quaint
Read more...
Enjoy this renovated school bus! My place is walking distance to art galleries, restaurants, coffee shop, live music, good food, a local tavern and great people. There are hiking trails just out the front door. Madrid is a small village of free spirits of all stripes. The Sweet Bus is a great place to enjoy our little village or venture 30 minutes to Santa Fe or 45 minutes to Albuquerque. Remember there is no shower, but Ten Thousand Waves Spa is in Santa Fe if you want a cleansing experience. Madrid is a town of creativity. Travel the scenic Turquoise Trail and experience the village of Madrid nestled in a narrow canyon in the Ortiz Mountains. Once a historic coal mining town and ghost town, Madrid is now a creative community with over 40 shops and galleries, several restaurants, a bar and museum. A couple miles north is the quaint village Cerrillos that includes a state park with hiking paths and horseback riding.
Hmmm we couldn't find any listings within Sweet Bus! that match your search criteria. Try removing filters or zooming the map out and searching again.
---
Places to see near Sweet Bus!