About Dinosaur Valley State Park
Come play with REAL-LIFE dinosaurs at Texas's miniature version of Jurassic Park! Ok let's be honest, that last statement was only like 10% exaggerated. Alright alright, maybe closer to the realm of 50% but who's counting? So maybe there aren't any living, breathing dinosaurs here, but there are ancient dinosaur footprints caked in the mud next to the Paluxy River, and there are also many life-sized model statues of dinosaurs created for the 1964 New York City World's Fair. Sauropods aside, visitors can also enjoy quite an array of activities from picnicking, fishing and geocaching to horseback riding, hiking and mountain biking the 20 miles of trails in this park. Among the 1,525 acres of land, you'll find an amazing diversity of animal and plant life. Amidst a tangle of elms, oaks, cedars, cottonwoods, sycamores, black willows and Texas sugarberry trees you'll come across everything from golden-cheeked warblers to lizards to beavers to armadillos and more!
Campgrounds in Dinosaur Valley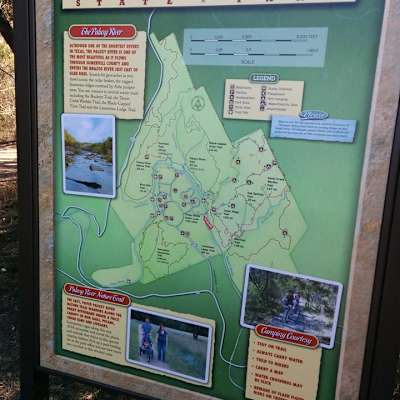 86% Recommend (7 Responses)
Under the umbrella shape of the Paluxy River, Sites 1 - 46 are located right in the heart of former dinosaur stomping grounds (no pun intended!)...
Jose: This was my third time camping and first time hiking in to a primitive campsite with a backpack. Being the beginner that I am,...
23 Saves
2 Reviews
No one? Bueller? Sharing is caring, y'all.
Drop some
Dinosaur Valley
knowledge on us.
This was my third time camping and first time hiking in to a primitive campsite with a backpack. Being the beginner that I am, my pack weighed in at about 50 lbs (I weigh about 150 lbs) and I still enjoyed the hike. I would consider it a relatively easy hike.
We camped in the middle of January and it did get a little cold - 28 degrees on Saturday morning. We stayed at the #3 primitive campsite. This campsite is one of the farther sites.
I did hear a lot of air traffic in the sky all throughout the night, but the night was pitch black and it was easy to get a good look at the stars.
Helpful 1
Helpful 1
Remove vote :(
History of Dinosaur Valley State Park
Archeological evidence suggests humans have occupied this area for many centuries. Native American Indians lived at sites in the park from about 6,000 years ago until Europeans arrived. They came here for the water and the abundant game, fish and mussels. They were probably ancestors of the Tonkawa, who lived in this region in later times.
The Tonkawa were bands of hunter-gatherers. Besides hunting game and catching fish and mussels in the river, they harvested pecans and walnuts, wild grapes and other local foods.
In the 1700s, Wichita groups migrated south from the high plains into this area. Wichita people built villages of conical huts, hunted buffalo and farmed.
Nomadic bands of Comanche also moved south into Texas about this time. The Comanche were highly skilled horseback riders. One of the largest bands of Comanche, known as "Wasps" or "Honey-Eaters," rode through present-day Somervell County. They spent winters in this area, grazing their ponies on the grass prairies, protected from the cold north winds by limestone bluffs.
French traders and explorers were likely the first Europeans to travel through this area, also in the 1700s.They traded with and gained the support of the Comanche and Wichita. In part, this was because the French would supply guns and ammunition.
Charles E. Barnard was one of the first permanent Anglo settlers in this area. He and his brother established a trading post in the late 1840s. In the 1850s, pioneers began pouring in, altering this area forever.
In 1860, Barnard bought a tract of land on the Paluxy River, in what would later become Glen Rose. He established a grist mill and store there. Stop by the square to view the statue of Barnard and his wife, Juana Josefina Cavasos, and to read their story.
In 1908, a flood of epic proportions roared down the Paluxy. It washed out all bridges and culverts on the river and scoured the riverbed.
A year later, nine-year-old George Adams discovered something amazing in the river: large, three-toed tracks - theropod tracks
Nearly 20 years later, a fossil collector for the American Museum of Natural History in New York named R. T. Bird saw one of the theropod tracks in a shop in New Mexico. He decided to come to Texas and check out the site. While exploring in the river, he was amazed to discover what looked like sauropod tracks, along with the theropod tracks. The tracks were the first proof that sauropods walked on land.
The 1,587-acre Dinosaur Valley State Park opened in 1972. Its mission: to preserve these valuable dinosaur track sites and to allow people to learn from and enjoy them.
The National Park Service has designated this park as a National Natural Landmark because of the outstanding display of dinosaur tracks.
You can't miss the models of an Apatosaurus (70 feet) and Tyrannosaurus rex (45 feet) near headquarters. The fiberglass models were on display at the 1964-65 New York's World's Fair. The Atlantic Richfield Company donated them to the park in 1970.
Tracks from the park are on display at the American Museum of Natural History in New York and at the Texas Memorial Museum in Austin. You can see a copy of the tracks at park headquarters.