About Cleburne State Park
Primitive camping, cabins, and RV areas with full hookups, oh my! Choose your own adventure at Cleburne State Park. At this rocky-terrain park you have six different campgrounds to choose from, all of which come standard with a paved driveway, picnic tables, campfire rings (just bring s'mores!), and a lantern holder. Stay in the surrounding area during your trip and pick from the 116-acre spring-fed Cedar Lake - known for its abundant sandy beaches and fishing - or explore hiking and biking in the nearby limestone canyons. Go just beyond Cleburne, and you'll find that Dinosaur Valley, Waco, and Ft. Worth are just a stone's throw away. Whether you're a full-on glamper or just plan on spending your time sunning at Cedar Lake, Cleburne has an adventure to pick for everyone!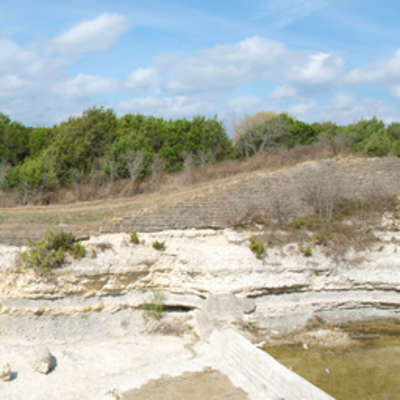 Poplar Point is totes the place to be if you're an RV or van traveler looking for the full package (water, sewer, electrical). The area consists of...
Laura: Just got home from a weekend of camping here! We have a 35' fifth wheel and were in spot 57. Chose this spot as it does not...
1 Review
No one? Bueller? Sharing is caring, y'all.
Drop some
Cleburne
knowledge on us.
Just got home from a weekend of camping here! We have a 35' fifth wheel and were in spot 57. Chose this spot as it does not look out on the backside of others camping. Lake is about 10' low, but we still had water in our view. Bathrooms are very clean if you should need them! Campground filled up Friday evening, but cleared out Sunday afternoon. We had the place to ourselves Sunday night and Monday! Great trails for the dogs and people! Quick drive outside of Ft Worth.
Helpful 0
Helpful 0
Remove vote :(
History of Cleburne State Park
Cleburne State Park is a 528-acre park that encompasses a lively 116-acre, spring-fed lake. Located southwest of Fort Worth in Johnson County, the park was acquired from the city of Cleburne and private owners in 1935-36 and was opened in 1938.
The region surrounding Cleburne State Park was a favorite hunting ground for many Indian tribesmen, since it was composed of dense woods surrounded by plains and included several clear springs. The Comanches used this area as a trail from the northwest to raid the homesteads in the south. The Indians would lead two fresh horses as they rode a third one, switching to a fresh horse as each was winded. In this manner, they would escape their pursuers.
Their concealed trail was last used for a raid on Kimbell (now known as Kimbell Bend), which, built in 1851, was the first town in Johnson County. Kimbell was established on the Chisholm Trail at its crossing on the Brazos River. Vast herds of cattle from the southern ranches in Texas crossed at Kimbell Bend going north to the markets. The park, located eight miles north of Kimbell Bend, was also a good campsite for the cowboys who drove cattle on the Chisholm Trail.
In 1934, this beautiful valley of springs was recognized as a picturesque locality for a park. A group of local businessmen, interested in its development, secured it for the State Park Board to establish a state park. In 1935, Civilian Conservation Corps Company 3804 of the federal government moved into the park site to start developing a park
The men built a small earthen dam to impound the park's 116-acre lake, with a beautiful masonry, three-level spillway, and then cleared a three-mile scenic roadway around the lake. A concession building, boathouse and bathhouse were built in 1936, with additions in 1940.
The park residence, water tower and interior furnishings display a variety of handcrafted wood and metal ornaments.