About Henderson Beach State Park
You can tell a lot about a beach based on how many people get married there, at least that's what a Jimmy Buffett lookalike told us once. If he's right (and his wisdom seem irrefutable), then Henderson Beach State Park is one of the best places in the world. Every year, hoards of brides risk getting sand in their veils because of the pristine sugar-white beaches and crystalline aquamarine waters here. We recommend visiting even if you aren't getting hitched because then you can also take advantage of the great fishing, quiet nature trails, and well-run services and facilities at this rarely overcrowded oasis, all while avoiding those awkward bridal-gown tanlines.
Campgrounds in Henderson Beach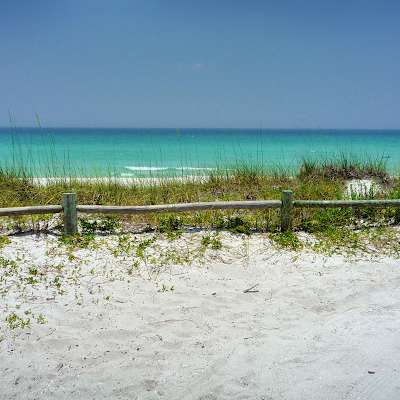 When you think 'roughing it' you probably don't think 'setting up camp within walking distance of a Walmart,' but that's exactly what it means to...
5 Saves
Reviews
No one? Bueller? Sharing is caring, y'all.
Drop some
Henderson Beach
knowledge on us.
History of Henderson Beach State Park
History and Culture
The park was purchased in 1983 from the Henderson family estate and opened to the public in March 1991. This was the first acquisition under the land conservation program initiated by Governor Bob Graham, Save Our Coast. The family wanted to protect the area's natural features and let the public enjoy the surroundings. Initial construction included two picnic pavilions, restrooms, beach access boardwalks, an entrance station and support facilities. In March 2000, 30 campsites, a bathhouse, camping area, playground and additional beach access boardwalk were added. A beautiful three-quarter mile nature trail was built through a partnership between the Friends of Henderson Beach State Park and the park which provides visitors with a rare view of some of the last remaining coastal scrub communities in Florida's panhandle.
Day Use Area
This view captures the beach and dune area prior to Hurricane Opal in 1994. The beach provides favorable swimming conditions and has been a popular area with local residents for many years.
Dunes
The park contains examples of a once prominent coastal dune system that existed in the panhandle before Florida's coastal development boom. The beach dune community extends from the gentle undulating foredunes near the Gulf waters to higher, mobile and larger dunes that can reach a height of 30 feet.
Beach
The shoreline at Henderson Beach has been shaped by wave action, winds and long shore currents of the Gulf of Mexico. The naturally white quartz sand is bleached from the action of water and sun. Sparkling sand blended with the emerald-colored water makes Henderson Beach State Park a perfect place to spend a day at the beach.
Nature Trail
A beautiful three-quarter mile nature trail now provides visitors with a rare view of some of the last remaining and endangered coastal scrub communities in the Florida panhandle. This trail meanders through ancient but still growing and shifting dunes. Significant plants, some rare and others largely endemic to the panhandle grow in this area. At the top of the trail are remnants of the United States Air Force Clausen tracking site installed in 1951.
Beach Sunset
Sunset is an idyllic time at the park. Many families come here to unwind and have pictures taken to remember their vacation on the Emerald Coast.