About Blue Spring State Park
Mermaids? Manatees?? Jacques Cousteau??? What do these strange underwater creatures (Cousteau included) all have in common and what do they have to do with Blue Spring State Park? All great questions and to answer them let's take a trip back to 1971, when the park provided the beautiful backdrop for an episode of "Forgotten Mermaids" on the show Underwater World of Jacques Cousteau. Since the park's brief moment in the spotlight, it has remained a popular destination for nature-lovers, families, fishers, bikers, hikers, snorkelers, vacationers, hammock-ers, outdoor scenic river boaters and, of course, SCUBA divers. Encompassing 2,463-acres and located just 35 miles from Orlando, Blue Spring State Park is also home to Blue Spring itself which shoots off 104 gallons of water into the St. Johns River each day.
Campgrounds in Blue Spring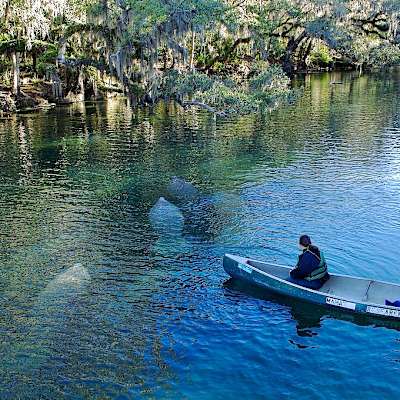 Amongst sand pine scrub and shrouded foliage, the park's campsite is nestled in the northeast region but offers easy walking access to Blue Spring...
Edwin: Dope spot, family friendly, an absolute must visit!!!
24 Saves
1 Review
No one? Bueller? Sharing is caring, y'all.
Drop some
Blue Spring
knowledge on us.
History of Blue Spring State Park
Blue Spring is a first magnitude spring on the St. Johns River. Gold Rush prospector turned orange-grower Louis Thursby purchased Blue Spring in 1856. Before the railroad rolled through in the 1880s, Thursbys Blue Spring Landing was a hotbed of steamboat activity, shipping tourists and goods to Jacksonville and beyond. Mrs. Thursby was Orange City's first postmistress. In 1971, 'The Forgotten Mermaids' episode of the Underwater World of Jacques Cousteau was filmed here. The documentary brought attention to the manatee and the importance of Blue Spring as a winter refuge, greatly influencing the state's decision to purchase the land.