Steep Ravine Cabins and Campground
97%
Recommendation based
on 32 responses
About Steep Ravine Cabins and Campground
Description
Get in on a little secret that lies just across the Golden Gate Bridge for Mount Tamalpais camping. Let us introduce you to the elusive Steep Ravine Cabins and Campground. On Mt. Tamalpais, just to the north of the city, there are a group of wooden structures that date back to the 1940s. They are insanely popular and rightfully so. Each cabin features a wood stove, picnic table
Read more...
Get in on a little secret that lies just across the Golden Gate Bridge for Mount Tamalpais camping. Let us introduce you to the elusive Steep Ravine Cabins and Campground. On Mt. Tamalpais, just to the north of the city, there are a group of wooden structures that date back to the 1940s. They are insanely popular and rightfully so. Each cabin features a wood stove, picnic table and several benches, sleeping platforms, and of course, an outdoor barbeque. The cabins do not have running water or electricity, but primitive toilets, water faucets, and firewood are nearby. The best attribute is that they all feature expansive ocean views, as they are perched high up on the side of a cliff.


Steep Ravine Environmental Campground (tent sites) is also a great choice (if not one of the best in the area!) for Mount Tamalpais camping. If you like tent camping, then this is your spot. It's also hugely popular and fills up fast, as there are only seven campsites. It is on the western edge of the park, and just to make matters more awesome, they are all overlooking the ocean. There's lots of privacy and tons to do right around camp. The campsites are a few hundred yards from the parking area. Each site has a table, fire pit, food locker, and space for a tent. Primitive toilets and water faucets are nearby. There's no showers, but don't worry...it's totally worth it.
Potable water is available
Details
Listing type: Public
No. of sites: 16
Phone: (415) 388-2070
Accessible by: Drive, Walk
Accommodation: Tent, Lodging
14 Reviews
-Cabins 7/8 closest to water.
-Has cell service there so it's good for coordinating groups, can still get your 'grams in, but there is something to be said about TRULY unplugging (though not a bad place to "work from home".)
-For park extra cars, easy to find spots on the highway just by the gate.
-Echoing Courtney below: BRING CUSHIONS especially for the benches- all of our arses are not the happiest after 2 nights. Standard camp pads were fine for the beds, though they did slide around a bit.
-Plenty of wood on site so save some room in your trunk ($8 bucks/bundle).
-Many spigots nearby.
-Clean bathrooms available with fresh water (no showers).
-The camp host is wonderful and super friendly, so don't leave your cabin wrecked!
Helpful 14
Helpful 14
Remove vote :(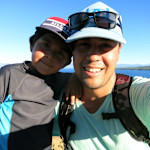 People go nuts for the cabins, but I personally love the campsites at Steep Ravine better. Great views, and good privacy due to the terrain. Sites 2 & 3 are the best to book for a big group, and are also protected from wind by awesome Cypress trees. Love it!
Helpful 9
Helpful 9
Remove vote :(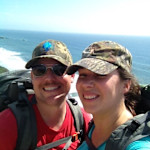 Bring LOTS of cushioning for the bed platforms in the cabins. A backpacking mat did not cut it. Bathrooms, both flush toilets and pit toilets, were very clean and well maintained. No showers but who cares when you're enjoying this view
Helpful 6
Helpful 6
Remove vote :(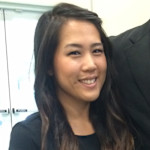 Camped at environmental site #4. Very secluded and only steps from the ocean view. This whole area is pretty secluded because there are only a limited number of cabins and environmental sites (for tents). Falling asleep with the ocean sounds was the best part. I do hope to go back in the future and check out one of the cabins. They are hard to book so if you come across and opening book it!
TIP: You'll need the gate code before entering. Luckily I was able to call.
Helpful 2
Helpful 2
Remove vote :(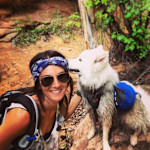 Steep Ravine campground is so private and relaxing. We brought our friends who were visiting California (from Scotland) here, and it was such a unique and memorable experience for them. There is not a bad location or spot, the views from all the sites are overwhelmingly beautiful. I love the windy drive down (or bike ride) to get down to the campground. This is one of my most favorite places to camp and while a bit more challenging to book, considering a weeknight stay is totally worth it!
Helpful 1
Helpful 1
Remove vote :(
Beautiful location so close to the City. Had no idea this was here! The girl got us a spot that must have been a cancellation because it was on such short notice.
Very secluded. Only noise was from the raccoons in the brush waiting for us to fall asleep to take our food. Oh and the waves. Love falling asleep to that sound. We were there on an extremely nice night. No fog or clouds and very little wind. We brought our own firewood but they do have bundles for sale in the parking lot, along with wheelbarrows to help you get it to your site.
We didn't have much time to explore the area as we got there around 8pm, but the morning revealed the beautiful view that we had not seen yet. Be sure to trek down to the little cove if you can.
Helpful 1
Helpful 1
Remove vote :(
So far I have tent camped at site 5 in sunny January and just now at site 6 in rainy October.
Both times were stunning. The tent sites are remote and separate, hardly visible. Longer walk back to the (flush) toilet but outhouse is in close proximity. Fire pits and provided food lockers must be used, our ice chest rolling around at 3:30 am (because it wouldn't fit) reminded us of that. Thankfully it was locked and the animal couldn't get inside.
Be sure to walk the pathway out around the tent sites on the bluffs. Stunning views. Deer and wildlife are EVERYwhere. Keep the place pristine.
Wanted to do a walk-up to stay an extra night, but the Camp Host's house said this was done by lottery at 2:00 at Pantoll. Be advised!
Helpful 1
Helpful 1
Remove vote :(
stayed at env campsite 1. beautiful views of the water. would highly recommend camping.
notes:
1: it wasnt very windy at in the evening/night, but got very windy in the morning and our tent was pulled from a few anchors. so anchor your tent very well even if it seems tame at night.
2: firewood is $8
3: *print your reservation confirmation to put on your dashboard. per the caretaker, they often ticket those who don't have reservation on the dash.
4: there are bathrooms + water + storage on site for campers
5: there are wheelbarrows for bringing supplies from parking lot to your campsite
6: *call for the gate code the day of!
My favorite place i have ever camped. The campsites are private and each one has its own personality. Little trails wind around the cliffs and down to the ocean. In the spring there are hundreds of calla lilies. The bathrooms are very clean. Nearby hiking is beautiful--the Steep Ravine trail (across the street from the entrance) follows Webb Creek up to the top of the mountains where you can see the bay and all its glory.
Its an adventure! The mice ate/stole a 4" hole out of my jacket overnight. Beautiful view, and nice hiking. Get lots of firewood. Can be windy and cold. Bring curtain material for privacy. Don't bring wool.Keep your food stuffs in a tough container. Bring cushions for bedding. Only parking for 1 car per cabin. then you have to carry your stuff down the hill to your cabin. Honestly, for the effort not sure we'll go again. Might camp there instead.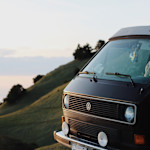 Arriving before dark makes finding your campsite a lot easier but maybe less exciting. It was incredible to wake up in the morning and see what we'd navigated through in dark, not to mention the stunning wild California coast around us.
The cabins have tables, wood burning stoves, and place to sleep - but you should bring lighting, sleeping pad, and sleeping bag. Be sure to sleep with the windows open to hear the waves!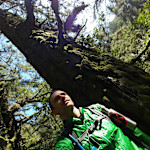 Best place ever. Bring:
- Window-size fabrics to serve as curtains (clips provided)
- Water container for use indoors (no running water)
- Solar lights/lanterns for indoor use at night (no electricity)
Park

Mount Tamalpais State Park

State

California
Phone Number

(415) 388-2070

Directions

Official Website

Coordinates

37.883° N, 122.627° W
Unknown price

Tent Only - Hike In: 6 Sites

Unknown price

Cabin & Lodging: 8 Sites