About Devil's Postpile National Monument
While the Devil's Postpile National Monument has no real satanic undertones (from our experience at least), the geologically-stunning and sweet honeycomb of the columnar basalt that make up the 60 ft towering formation is one of the most awe-inspiring topographical artifacts you will ever come across. Seriously. We aren't kidding, go see for yourself and write us an angry email if you aren't stunned that something like the Postpile was created naturally. Coupled with the 101 ft Rainbow Falls just a couple miles away, these two attractions make up the major allure of Devil's Postpile National Monument and cannot be missed on any trip from Yosemite or the Mammoth Lakes.
Campgrounds in Devil's Postpile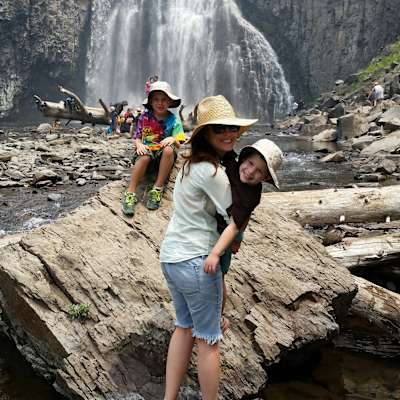 100% Recommend (4 Responses)
Boasting a modest 21-site, first-come first-serve campground, Devil's Postpile Monument quickly fills up on weekends and during the July-August...
10 Saves
4 Reviews
No one? Bueller? Sharing is caring, y'all.
Drop some
Devil's Postpile
knowledge on us.
Devil's Postpile is a launching point for a bunch of much larger backpacking trips, use this as a jumping off point for a crazy adventure that'll test all of your outdoor abilities.
Helpful 0
Helpful 0
Remove vote :(
Take advantage of Rainbow Fall's by planning your hike in the late afternoon--you won't be disappointed in the visual wonders that stem from the falls and anointed them with their name.
Helpful 0
Helpful 0
Remove vote :(
Snowshoeing and cross-country skiing are popular in the winter, but make sure to plan out your trip a while ahead and beware of avalanches, it can get real dangerous out there.
Helpful 0
Helpful 0
Remove vote :(
History of Devil's Postpile National Monument
An estimated 80,000 to 100,000 years ago a lava vent began spewing hot basaltic lava into the Reds Meadow Valley near present-day Upper Soda Springs, a few miles north of the Monument. The lava flowed down the valley like a river until it was blocked by a natural dam, probably a glacial moraine left down-valley by a receding glacier during a previous ice age. The lava began filling the valley behind this dam, creating a lava lake 400 ft. deep in some areas. Such depth is uncommon among lava flows and plays a crucial role in the formation of the long columns we see today.
The Devils Postpile used to be much taller than what we see today. Powerful erosive forces have been at work during the last 80,000 to 100,000 years carving, shaping and demolishing remnants of the lava flow. Freeze-thaw cycles help break apart the columns. Earthquakes knock columns down into the talus slope below. The river slowly eats away at pieces that fall into the water. But no force has left a greater footprint on the Postpile than that of glaciers. In fact, we wouldn't even see the beautifully straight hexagonal columns hidden within the depths of the lava flow had glaciers not excavated the formation. Several distinct glacial periods have occurred since the Postpile was formed and each has dug deeper and deeper into the dense, heavy rock known officially as andesitic basalt. The last major glacial period ended about 15,000 years ago. Glacial polish and striations evident on top of the Postpile are from this last glaciation.
The Monument was once part of Yosemite National Park, but discovery of gold in 1905 near Mammoth Lakes prompted a boundary change that left the Postpile on adjacent public land. Later, a proposal to build a hydroelectric dam called for blasting the Postpile into the river. Influential Californians, including John Muir, persuaded the federal government to stop the demolition and in 1911, President William Howard Taft protected the area as a National Monument.