About Alfred A. Loeb State Park
8-miles inland of Oregon's southern banana belt paradise, Chetco river incantations whisper about eucalyptus scented myrtlewood groves and redwood shadowed hiking paths. Alfred A. Loeb State Park is a warmer-than-usual Oregon adventure that provides proximity to all the bliss of a varied outdoor expedition--forest hikes, deep wilderness backcountry treks, riverbank frolicking, ocean-play, boating, biking, fishing and explorations in the enamoring town of Brookings, 581-miles north of California, off of the epically beautiful 101. Come to Alfred A. Loeb to stay the night at its year-round campground, to cherish its fertile scenery, to forget about time on its otter-frequented river banks, to visit the Chetco Valley Historical Museum, to fly your kite at the Southern Oregon Kite Festival, to be enchanted by Azalea Park, and to simply fall in love with the power of this unique wilderness cradled between the edge of Oregon and crest of California.
Campgrounds in Alfred A. Loeb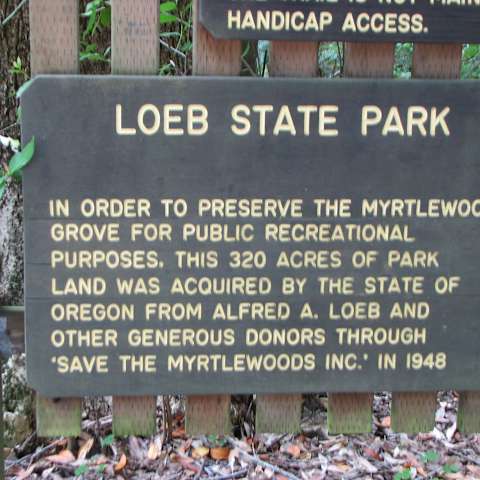 Brandi: This place skewed heavily towards the RV crowd, which made it seem like a ghost town at night. The...
2 Reviews
No one? Bueller? Sharing is caring, y'all.
Drop some
Alfred A. Loeb
knowledge on us.
Love this campground and have been family camping there for 20 years. The last 3 summers have not been the same. They do not accomidations for large families, which may make alittle noise after dinner. As a matter of fact, we were pretty much harassed by the camp host and then by the Ranger, who hid in the bushes (I SWEAR) and waited for someone to laugh so he could step right back out and "warn" us again. He told us to use library voices!! Wouldn't you laugh? Anyway they used to greet us by name every year and now we get warned. FYI we family camp. With soda.
Remove vote :(
This place skewed heavily towards the RV crowd, which made it seem like a ghost town at night. The sites themselves did not have a ton of privacy, but we were in the first site to the left as you enter which was better than most. There is a nice trail down to the river, which would be great for swimming had the weather been warmer, and the bathrooms are clean and well-maintained.
Remove vote :(
History of Alfred A. Loeb State Park
The first park land was acquired by gift from the State Board of Forestry in 1958. It was a tract of 160 acres that had been purchased in 1948 by the Board of Forestry and Save the Myrtle Woods, Inc. from Alfred A. Loeb of Portland for the purpose of protecting the outstanding native myrtle trees and other vegetation along the Chetco River. The tract name, commemorating Loeb, was part of the original purchase agreement. The gift was, in turn, accepted by the Highway Commission after Curry County agreed to improve and oil the access road from U. S. Highway 101. In 1963, the park was expanded by the purchase of an adjoining 40-acre tract. An additional, separated hillside tract of 120.23 acres was obtained by patent from the U.S. Bureau of Land Management in 1962.