About Cayo Costa State Park
Pack your bags. You're going to want to hit the road pronto once you hear about this place. This island paradise has nine miles of beaches lapped lazily by the warm waters of the Gulf of Mexico. Swimmers, snorkelers, and scuba divers mingle with manatees, porpoises, and sea turtles. Head out on a kayak or scour the sand for seashells. For the more land-inclined, there's nature trails and bike rentals, and you can even learn something from the ranger and naturalist programs at the amphitheatre. Can't bear to leave? So don't! You can stay overnight in your vessel at the dock, or bunk up in a rustic cabin. There's also tent camping right by the beach. Somewhere this great must be teeming with tourists, its tranquility shot, right? Think again. Cayo Costa is quiet and chill, since it's accessible only by boat.
Campgrounds in Cayo Costa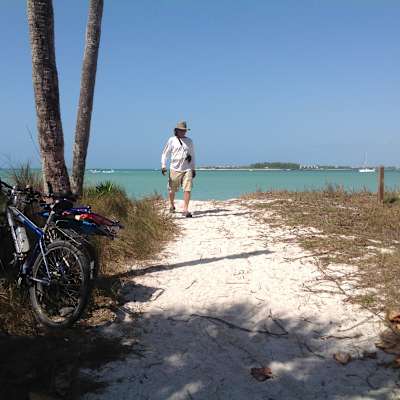 100% Recommend (3 Responses)
Ready for an adventure? Just getting to this campground is a little bit epic. First, you have to board a boat at one of the five places that offer...
Jane: Cayo Costa is a treasure. The camp store has very limited food supplies so come prepared. Ice ($4) and firewood ($9) are...
37 Saves
2 Reviews
No one? Bueller? Sharing is caring, y'all.
Drop some
Cayo Costa
knowledge on us.
Cayo Costa is a treasure. The camp store has very limited food supplies so come prepared. Ice ($4) and firewood ($9) are available. So are bikes and kayaks.
Helpful 1
Helpful 1
Remove vote :(
If you don't have your own boat, you will need to make ferry reservations to get to the island. Ferries leave from Captiva, Punta Gorda, Boca Grande and Pine Island.
Helpful 0
Helpful 0
Remove vote :(
History of Cayo Costa State Park
For 4,000 or more years before the arrival of Europeans in Florida, a succession of Native American fishing cultures lived and worked in the Charlotte Harbor area. Several of their shell mounds are located on Cayo Costa, which means 'Key by the Coast' or barrier island. In the early 1800s, Spanish fishermen from Cuba established 'fishing ranchos' on islands along Florida's west coast. Fish were caught, dried and then transported to Cuban markets. A quarantine station was established on the northern end of Cayo Costa for immigrants entering the country through Boca Grande Pass in the late 1800s. Approximately 20 fishing families lived on Cayo Costa in the early 1900s, where they established a school, a post office and a grocery store.