About Leo Carrillo State Park
Nestled against the SoCal coast in the Santa Monica Mountains, Leo Carrillo State Park offers 1.5 miles of pure beach perfection. Let's assume you aren't going to just melt into that SoCal sun and actually do something active, with activities ranging from windsurfing to hiking to beachcombing, all available for the adventurer of all types. Venturing inwards, backcountry trails allow for some serene and panoramic jaunts among the beautiful giant sycamores that shade the campground.
Campgrounds in Leo Carrillo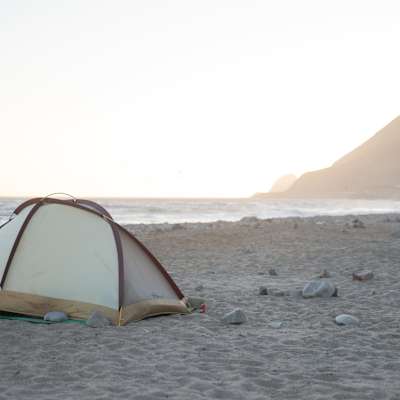 93% Recommend (22 Campers)
Shaded by giant sycamores and located at the foot of the Santa Monica Mountains, Canyon Campground can get pretty crowded, but for all the right...
161 Saves
12 Reviews
No one? Bueller? Sharing is caring, y'all.
Drop some
Leo Carrillo
knowledge on us.
History of Leo Carrillo State Park
Archaeologists believe that the Chumash people, superb artisans who excelled at basketry and elaborate rock art, lived in the area as long ago as 6,000 B.C.E. They enjoyed playing games, singing, dancing and trading with other tribes. Their plank boats carried them to the Channel Islands to trade, fish and gather mussels and abalone. In the late 1700s, Spaniards settled the area, forcing dramatic changes on the Chumash and their way of life. Native American labor built Mission San Buenaventura, but the regimented mission life and the effects of European diseases took a toll on the Chumash. After inhabiting this land for thousands of years, they had nearly disappeared by 1920. Today many Chumash descendants still celebrate and share their vibrant cultural traditions.
Leo Carrillo State Park is named after a star of Broadway, television and film. Descended from prominent early California families—his great-grandfather was Carlos Antonio de Jesus Carrillo, a governor of California in the last years of Mexican rule—Mr. Carrillo's talent lay in entertainment. He began as a vaudeville comedian; his prolific film career lasted from the late 1920s well into the 1960s. One of his more recognizable roles was the comic sidekick in the television series "The Cisco Kid." Leo Carrillo served 14 years on the State Beaches and Parks Commission; he was instrumental in the state's acquisition of much of the property between Malibu Lagoon and Point Mugu, including the area named after him.