About Rainbow Springs State Park
What do you get when you mix a rodeo, a zoo and theme park? That's right, Rainbow Springs State Park! Well, you get the park 50 years ago. Although many of the themed attractions are no longer around, this park still retains its fair share of fascinating sites - enough to entice thousands of visitors each year. Among these temptations are the pink, purple and white azalea blooms of spring, as well as the turquoise waters of a surging waterfall. In fact, this national landmark is also an aquatic preserve and has earned the distinction of Outstanding Florida Waters as designated by the Florida Department of Environmental Protection. As such, much of the 1,472-acre park's activity revolves around the crystalline waters of the Rainbow River. Snorkeling expeditions, canoe/kayak trips and afternoon tube floats are popular pastimes. So too are swimming, fishing and picnic grill-outs next to the park's luscious gardens. Though no longer in any official capacity, Rainbow Springs is more of a de facto zoo, as a number of critters call this place home. Be on the lookout for osprey, hawks, swallowtail, gopher tortoise, Florida pine snake, Sherman's fox squirrel and many, many more!
Campgrounds in Rainbow Springs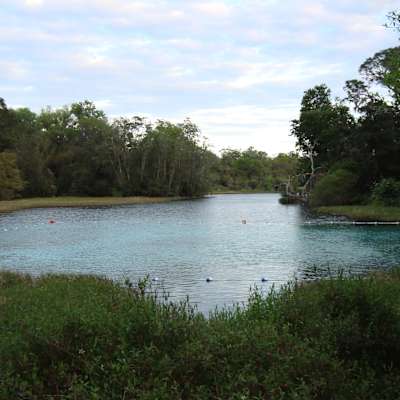 Rainbow Springs 60-site campground in a nutshell - its facilities are too nice, its sites are too spacious and it is just too darn scenically...
7 Saves
2 Reviews
No one? Bueller? Sharing is caring, y'all.
Drop some
Rainbow Springs
knowledge on us.
History of Rainbow Springs State Park
In the 1920s, this spring was a favorite spot for tourists and locals. As the attraction grew, the river was dredged for glass bottom boat tours; and waterfalls were built on piles of phosphate tailings. A zoo, rodeo, gift shops and a monorail with leaf-shaped gondolas were added. In the mid-1970s, when larger theme parks lured the tourists away, Rainbow Springs was closed. In the mid-1990s, it reopened as a state park. In 1972, the U.S. Department of the Interior designated Rainbow River as a National Natural Landmark. It is also an aquatic preserve and an Outstanding Florida Water.