About Highlands Hammock State Park
Ready to string your hammock high up in the trees for the night? JK, the 'hammock' this park is referring to is actually a type of local tree ecosystem, that this park was created to preserve! Highlands Hammock State Park includes a scenic 3-mile loop drive that gives access to the park's nine trails, a separate 11-mile trail accessible to bicyclists, horseback riders, or wanderers in search of wildlife, and many elevated boardwalks that'll make you feel like you're walkin' on water. Look around and you'll find flora in the form of old-growth bald cypress swamp, ferns, bromeliads. Fauna abounds from gopher tortoises to bald eagles, and the elusive Florida panther. Oh, and if you're debating when to come, visit in the fall and winter seasons to catch a Music in the Park Concert series, hosted every third Saturday of the month. Really, what doesn't this park have?
Campgrounds in Highlands Hammock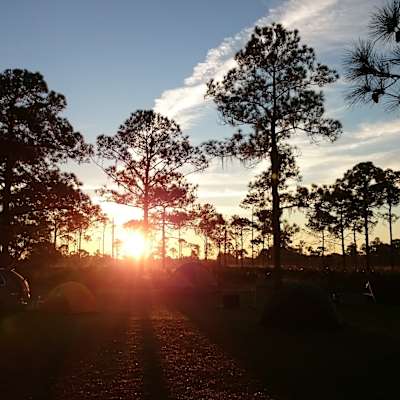 Tents, trailers, and… hammocks welcome! So meta. Highlands Hammock Campground has the trifecta: hot showers, flushing toilets, and a sanitary dump...
4 Saves
1 Review
No one? Bueller? Sharing is caring, y'all.
Drop some
Highlands Hammock
knowledge on us.
History of Highlands Hammock State Park
First opening in 1931, this park is one of the earliest examples of grass-roots public support for environmental preservation. Local citizens, with the financial assistance of the Margaret Shippen Roebling family, acquired the property and constructed trails and basic facilities in 1930. In 1934, a Civilian Conservation Corps (CCC) camp began working on a botanical garden project on land adjacent to Highlands Hammock Park.
When Florida's state park system was established in 1935, Highlands Hammock became one of the first parks. In 1941, the park and gardens merged as the CCC camp closed due to impending war. During those years, the CCC had planted thousands of plants, constructed roadways, dams, bridges and buildings. Although the gardens never became a reality, the park's natural beauty endures.