About Pismo Beach State Beach
Pismo State Beach stretches across 17 miles of California coast replete with plenty of caves, bluffs and dunes for exploring. Visitors here can entertain themselves with sea kayaking, caving, clamming, wildlife watching, camping, hiking, biking and much more. Making the park even more special than the average slice of California coast (which let's be real, is already pretty special), is the Monarch Grove. In the winter, this grove hosts tons of migrating monarch butterflies and makes for a great attraction for tourists and locals alike.
Campgrounds in Pismo Beach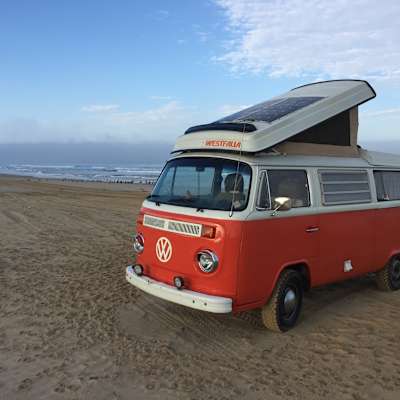 Oceano Campground boasts 42 campsites, all with direct beach access. Even with this über convenient beach proximity, the campsites are protected...
58 Saves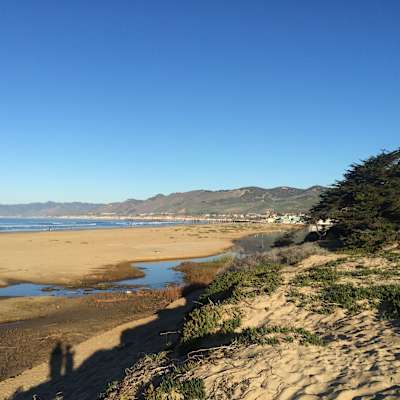 North Beach Campground at Pismo Beach has 103 campsites with pay showers, dump sites, restrooms and fire rings. The campsites are located in a...
23 Saves
9 Reviews
No one? Bueller? Sharing is caring, y'all.
Drop some
Pismo Beach
knowledge on us.
Activities in Pismo Beach State Beach
Biking

Pismo Beach is an awesome spot to break out your bike – especially if you are
riding in a group of varied skill levels. The trails here are mostly long and flat, making for enjoyable (though not particularly challenging) rides. A great number of the trails lead to actual roads with bike lanes, so take that into consideration when planning your route. Mountain biking trails can be found within the area too, if you are willing to traverse to other parks.

Boating

There are no places to bring motorboats (unless you literally come in that way), but check out our kayaking & canoeing section for available boating options.

Fishing

The Pismo Beach Pier is a popular gathering spot for a few reasons. First, it provides an awesome escape from the sun. Second, it is known for some killer fishing ! What you catch along the pier is largely determined by where you are situated. However, anglers have been known to reel in fish such as perch, flounder, boccaccio, walleye and more. If you're really up for a challenge, folks love to frequent the pier at night for a little shark fishing. Cue the jaws theme song…

Hiking

Pismo Beach definitely has some great trails just waiting to be explored. One of our favorite hikes,
The Shell Beach Bluffs hike, leads outdoorsmen on a path next to the area's breathtaking coastal cliffs. Beware though! The cliffs are above Pirate's Cove, a clothing-optional part of the beach (read: watch out for the occasional naked guy or gal).

Horseback Riding

A horseback ride through the dunes and on the beach never gets old. Seriously, it never does. Horseback riding on Pismo Beach is an awesome experience to have by yourself, with a friend, or with the whole family. Nearby ranches lead guided tours on the beach for an unforgettable ride.

Kayaking & Canoeing

Pismo Beach is a scenic spot for year-round kayak adventures. Kayaking here is a unique experience because the area has tons of caves and coves to explore (not to mention marine wildlife to befriend). Experienced kayakers may venture out on their own, but novice kayakers are sure to have a great experience with one of the local t tours .

Swimming

The waters are often cold (we won't lie), but it is still a great spot for a swim! The area has lifeguards (an awesome amenity), but visitors should always keep an eye on weather conditions and rip tides when swimming in ocean waters.

Wildlife Watching

Pismo Beach has plenty of wildlife to spot. On the beach, onlookers should be searching for glimpses of animals such as migrating whales, seals and sea otters. The beach also has a special wildlife attraction, the Monarch Butterfly Grove . In late winter, the grove hosts a massive migration of monarch butterflies, making for a special and beautiful display of wildlife. This is definitely something you don't want to miss, for everyone alike (non butterfly-enthusiasts included).
History of Pismo Beach State Beach
Pismo State Beach was named for the nearby city of Pismo Beach. Shell Beach and Sunset Palisades were originally home to Chumash village. Later on, Shell Beach became a source of agricultural land (mostly pea fields). In 1926, developer Floyd Calvert brought and developed the area. At first, Calvert's vision created a local resort feel, but the area became mostly residential after World War II. Meanwhile, Sunset Palisades was the home to an oil refinery until after World War II when it also became residential.