About Red Bridge State Wayside
The sweet scents of yellow barked ponderosas will integrate into your inhalations. The pearly fluff of cottonwood branches will direct the breeze. The Blue Mountains will rise and confidently proclaim their status as one of the largest uplifts in Oregon and the Grande Ronde River will course by in peacock blue ribbons of liquid light. At Redbridge State Wayside, you'll find the thrill of big scope grandeur amidst the simplicity of a small scope sanctuary. Fish riverside for seasonal steelhead, toss horseshoes after an afternoon picnic, get down with some walk-in camping as you tour the scenic Blue Mountains and appreciate the wild splendor of this historic Eastern Oregon gateway.
Campgrounds in Red Bridge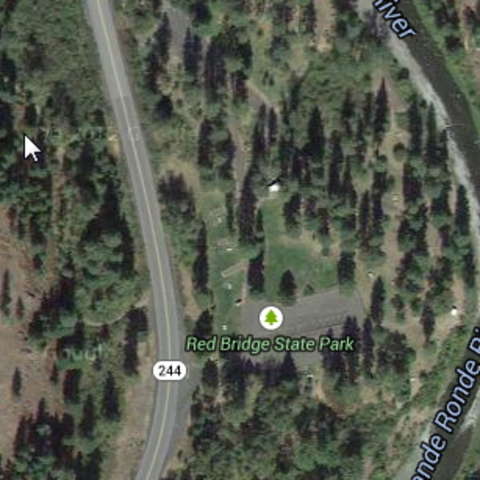 Red Bridge offers simple camping joy as you explore the Blue Mountain territory in Eastern Oregon....
Photos
This park doesn't have any submitted photos—just yet.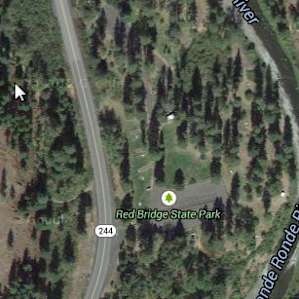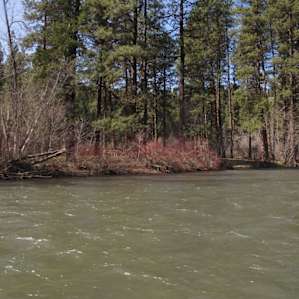 Reviews
No one? Bueller? Sharing is caring, y'all.
Drop some
Red Bridge
knowledge on us.
History of Red Bridge State Wayside
The original 32 acres of land was acquired in an exchange with the Mt. Emily Lumber Company in 1951. In 1961, the Boise Cascade Corporation gave the state the abandoned railroad right-of-way crossing the park. Reportedly, the old highway bridge over the Grande Ronde River was maintained in red paint by Union County, and thus, the park name.