About LaPine State Park
A visit to LaPine State Park means you'll be surrounded by, you guessed it, lots and lots of pines. The park's 2,000+ acres of subalpine forests are nestled next to the swift-moving Upper Deschutes and Falls rivers. Hike LaPine's 10 miles of trails, and be sure to make a pit stop at "The Big Tree," a monstrous 191-foot tall Ponderosa pine--the largest in Oregon. Spend the night in a tent or cabin and then spend the day on the river, swimming, canoeing, or fishing for trout (this park boasts some of the best fly fishing spots in the state). If you get tuckered out by LaPine's endless activities, just pop a squat on the riverbank and take in the incredible view of the surrounding Cascade Mountains. Things don't slow down in the winter, either; the park's roads are maintained during the cold months so you can enjoy cross country skiing, snowshoeing, and snowmobiling in a thick layer of the powdery white stuff.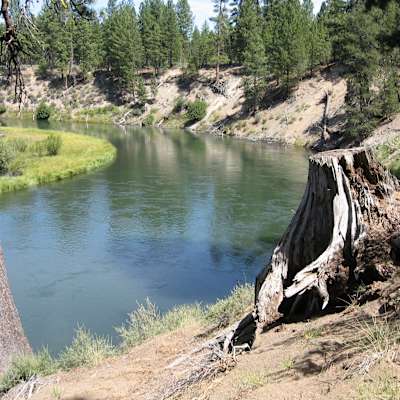 Wake up to the sound of a rushing river and the smell of brisk mountain air at LaPine campground. Choose from 87 campsites with sewer, water, and...
18 Saves
1 Review
No one? Bueller? Sharing is caring, y'all.
Drop some
LaPine
knowledge on us.
History of LaPine State Park
Acquired between 1966 and 1981 by purchase from the Bureau of land Management and private land owners and by land exchange with the U. S. Forest Service.