About Hillsborough River State Park
Spend a day on the Hillsborough River and you'll probably see more gators than people. Not that that's a bad thing -- have you ever seen a baby gator? So cute. If you get your fill of ogling at the reptiles while cruising through class I and II rapids on the river, no worries, there's plenty else to do at this state park. Hike or bike through more than seven miles of trails that wind through moss-fringed oaks, pines, and palmettos. If the weather's hot enough (and this is Florida, so most of the time it is), check out the park's pool and recharge with a hot dog at the nearby Pool Side Cafe (psst -- there's free wifi at the cafe, so it's a great chance to post your selfies from paddling the river). At the park concession, you can rent canoes, bikes, golf carts, and surreys -- old-timey four-wheeled bicycles built for two or four people. Some even come with canopies, so you'll keep cool as you pedal beneath the hot Florida sun. And a visit to this park isn't complete without a ranger-led tour of Fort Foster State Historic Site, a cool reconstructed fort from the Second Seminole War. Like we said, playing on the river itself is only the beginning at Hillsborough River State Park.
Campgrounds in Hillsborough River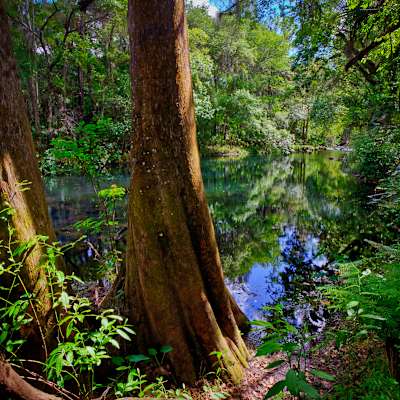 Nestled beneath a hardwood hammock, most of the 112 sites at Hillsborough River Campground provide excellent shade to escape the Florida sun. Each...
2 Saves
History of Hillsborough River State Park
The river was named in the late 1700s for Wills Hills, the British Colonial Secretary and Lord Earl of Hillsborough. After Florida became a U.S. Territory, settlers migrating in created conflict with the resident Seminole tribes. The U.S. government's plan to transport the Seminoles sparked the Second Seminole War. In 1835, Fort Alabama was built to protect the bridge over the Hillsborough River from Fort King (Ocala) to Fort Brooke (Tampa). The fort was abandoned a few months later and destroyed by fire. Fort Foster was built on the same site in 1836 and today visitors can experience the reconstructed fort. In the 1930s, during the Great Depression, the Civilian Conservation Corps (CCC) established the area surrounding the river rapids as a public park. Many of the park's structures and the suspension bridge are examples of the CCC style of rustic architecture, in harmony with the natural environment.