About Mother Neff State Park
Osage Orange. Texas Ash. Rusty Blackhaw. No, these aren't just awesome stage names for the frontmen of a kickin' bluegrass band -- they're just several of the many types of trees you'll encounter at Mother Neff State Park. Pick up a tree guide at the ranger station and see if you can spot the many deciduous varieties as you wander the park's miles of shady trails that wind through hardwood forests and grasslands near the Leon River. Birding is popular, too, so bring your binoculars to hone in on red-tailed hawks or swift-footed roadrunners. There are also several spots for fishing access on the river, if you want to sit back with a pole after a hard day of hiking -- areas of the park can be steep and rugged. Or just take in the rolling hills and leafy beauty of Texas's first state park from one of the trail's scenic overlooks; watching the sun sink behind the rocks is the perfect way to end a day at Mother Neff.
Campgrounds in Mother Neff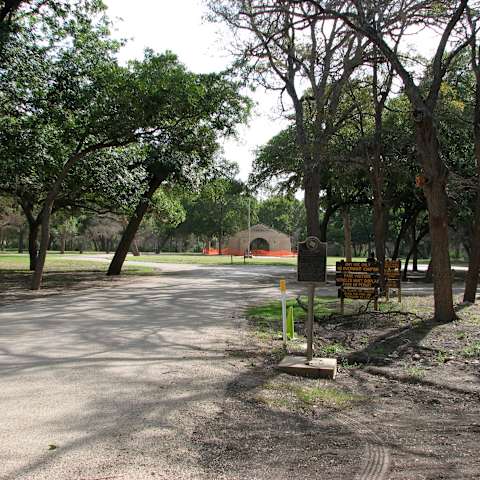 Fall asleep beneath the leafy shade at Mother Neff Campground. There are 20 campsites to choose from...
Reviews
No one? Bueller? Sharing is caring, y'all.
Drop some
Mother Neff
knowledge on us.
History of Mother Neff State Park
Mother Neff State Park was the first official state park in Texas. It is named for Isabella Eleanor (Mother) Neff, who donated six acres of land along the Leon River in 1916, which became the first park site. Her son was Texas Governor Pat M. Neff, who served as governor from 1921 to 1925. After the death of his mother in 1921, Governor Neff created the Mother Neff Memorial Park, which later became the nucleus of the Texas State Park System. The park, located west of Moody, now contains 259 acres in Coryell County. The additional land was deeded to the state in 1934 by private owners: Governor Neff deeded 250 acres and Frank Smith deeded three acres. The park opened to the public in 1937.
In the 1930s, the Civilian Conservation Corps restored the park to its historical setting. An excavation in 1935 unearthed three Indian graves and many artifacts. During prehistoric times this area was occupied by several groups of Indians, including some groups probably related to the Tonkawas. Heavily wooded, the park is ideal for camping, hiking, picnicking and fishing.