About Kickapoo Cavern State Park
Want to live out one of your biggest superhero fantasies? Come to Kickapoo Cavern State Park and recreate the moment where Bruce Wayne's life was forever changed and the masked vigilante known as Batman was born! This park has a lot to offer, like mountain biking, hiking (trails aren't well marked, though), camping, and birding. The real reason to come here, though, are the caves and cave-dwellers. 2-3 hour long cave tours are offered at a reasonable $10/person, though be advised - if there aren't at least five people present the tour is a no go. And the bats, oh the bats. There are a couple of spots to sit atop cave entrances so that you can be right in the mix of it when the bats fly out en masse at dusk to grab their dinner (they won't touch you, don't worry). Then just add a few million dollars in gadgets and a bad raspy voice and boom: superhero you.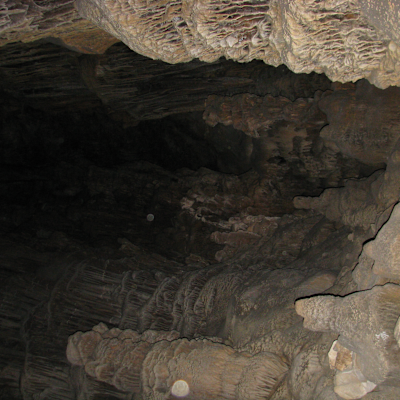 Sleep beneath the stars and to the soothing sounds of bats hunting insects via echolocation. Seriously, though, camping at Kickapoo Cavern is a...
1 Save
Reviews
No one? Bueller? Sharing is caring, y'all.
Drop some
Kickapoo
knowledge on us.
History of Kickapoo Cavern State Park
Kickapoo Cavern State Park, formerly the Seargeant Ranch, is located approximately 22 miles north of Brackettville, straddling the Kinney/Edwards county line. It is comprised of 6,368.4 acres of the southern Edwards Plateau. It was acquired in December 1986, and was opened to the public on a limited basis in 1991. Daily access to the park became available on June 1, 2010.
Campsites, including full hookups for RVs and a group area, are available. On June 12, 2010, a new 0.75-mile trail was opened and dedicated as the Seargeant Memorial Trail. This trail starts near the campground and traverses creek beds and ridges to reach an overlook with spectacular views of hills and valleys in the park, and then continues on to a location near the original trailhead. A plaque honoring Tommy Seargeant, who sold the land to TPWD and was a strong supporter of developing this park, will soon be erected at the overlook. A shade structure will also be built on this overlook for an enjoyable place to rest and relax in a natural setting.