View 96 photos
Richard Wizardy's Cynosure Proj, Arizona
83%
Recommendation based
on
73 responses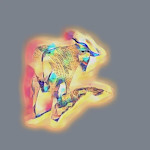 About
Cynosure started out as a trailer park, only the convenience store ever really opened and was burned down and is now my basketball court.
I have destroyed most of the trailer park and made it a sustainable goat and bird ranch.
This is also my art studio. Most of my large sculptures are around the property and a pile of recycled stuff waiting to be made into something new. I have a lot of fire art that has been to Burningman and other events. Fire breathing musical instruments that can make you dinner and give you a show.
I am a multimedia artist. I make sacred geometry, interactive, flame effect art, giant working golf clubs. I can recycle anything. I was on a PBS show called rare visions and road side attractions, some of the places on that episode were the watts towers on L.A., Salvation Mountain, east JESUS, and sunnyslo
Read more...
Cynosure started out as a trailer park, only the convenience store ever really opened and was burned down and is now my basketball court.
I have destroyed most of the trailer park and made it a sustainable goat and bird ranch.
This is also my art studio. Most of my large sculptures are around the property and a pile of recycled stuff waiting to be made into something new. I have a lot of fire art that has been to Burningman and other events. Fire breathing musical instruments that can make you dinner and give you a show.
I am a multimedia artist. I make sacred geometry, interactive, flame effect art, giant working golf clubs. I can recycle anything. I was on a PBS show called rare visions and road side attractions, some of the places on that episode were the watts towers on L.A., Salvation Mountain, east JESUS, and sunnyslope rock garden. If you like these kind of maybe weird ,outsider artist, underground art spaces you will like my place. One man's trash is another's garbage or gold, you Just need to know what to do with it!
I raise kinder goats, that produce the best tasting milk, meat and cheese of any breed. I also have chickens, ducks, turkeys and rabbits. Babies are born in the spring.
Never know what could be cooking and getting created around here.
Hmmm we couldn't find any listings within Richard Wizardy's Cynosure Proj that match your search criteria. Try removing filters or zooming the map out and searching again.
---
Places to see near Richard Wizardy's Cynosure Proj