View 92 photos
100%
Recommendation based
on
132 responses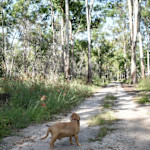 About
283 acres of mainly level bush with camping sites in various locations, either in a remote bush or by the water (dams). 6 kms of bushwalking tracks with abundant native wild and bird life. Designated fireplaces and free firewood.

All campsites except the Safe Haven are physically separated and reserved for a single group (either travelling alone or in company with others). The Safe Haven can accommodate up to 4 caravans/campers with a communal central fireplace by the water.

A seasonal summer stream normally runs through the length of the property from January to May. During this time access to some of the walking trails can be restricted.

All sites can be left unattended and secure by visitors for day trips to surrounding areas such as Agnes Water, Seventeen Seventy, the Boyne Valley or various National Park
Read more...
283 acres of mainly level bush with camping sites in various locations, either in a remote bush or by the water (dams). 6 kms of bushwalking tracks with abundant native wild and bird life. Designated fireplaces and free firewood.

All campsites except the Safe Haven are physically separated and reserved for a single group (either travelling alone or in company with others). The Safe Haven can accommodate up to 4 caravans/campers with a communal central fireplace by the water.

A seasonal summer stream normally runs through the length of the property from January to May. During this time access to some of the walking trails can be restricted.

All sites can be left unattended and secure by visitors for day trips to surrounding areas such as Agnes Water, Seventeen Seventy, the Boyne Valley or various National Parks located within 50klms.

Your hosts are always present and ready to assist in any way they can.

Dogs welcome.

Note:
Flushing toilet is located adjacent to the Safe Haven campsite.
Hmmm we couldn't find any listings within Collie Farm that match your search criteria. Try removing filters or zooming the map out and searching again.
---
Places to see near Collie Farm