About Buttermilk Falls
We work the land and share the mission of Philadelphia Community Farm (PCF), established in 1989 as a CSA farm and non-profit in Osceola Wisconsin. We approach the farm as a whole organism, developing a real relationship with the soil, the plants, the animals, each other, and the earth.
The name Buttermilk Falls comes from the early 20th century, when the land we steward was an F. Scott Fitzgerald era health retreat called, "Buttermilk Falls Health Retreat." The limestone cliffs lead one to believe that the water may have mocked buttermilk!
PCF was one of the first Community Supported Agriculture programs in the midwest, and has hosted community education for over 25 years! We are honored to be carrying on the tradition of biodynamic farming practices, living in community, and providing a site for excellent nature-centered educational programs.
PCF's founders worked to put hundreds of acres along the riverway into conservation and the organization owns contiguous properties Tewksbury and Buffalo Skull.
Campgrounds in Buttermilk Falls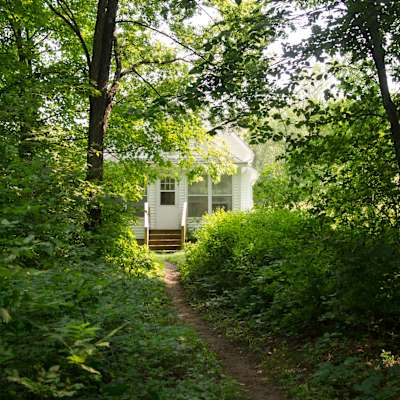 Request book
The Orchard Retreat House is a bunk-style retreat facility with all the warm perks of home. The house was moved to the farm from the town of...
6 Saves
1 Review
This property has no reviews yet.
If you stayed here and have some insider info for us,
let us know
!
Buttermilk Falls is a great place for a family to enjoy a weekend getaway. There are many farm animals on the land, all seem to think you're on your way to feeding them when you walk past. The hike to Buttermilk Falls and through the prairie is nice too. The farm animals combined with the property makes the farm an overall great experience for everyone.
Helpful 4
Helpful 4
Remove vote :(