Where the Lake meets the River
Where the Lake meets the River
90%
Recommendation based
on 51 responses
29 Reviews
This listing has no reviews yet.
If you stayed here and have some insider info for us,
let us know
!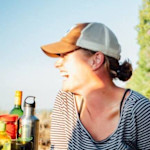 Recommends this listing
Visiting "Where the Lake meets the River" was a profound experience. The location was absolutely beautiful. Camping with my friend, we often found ourselves- sitting in the perfectly-placed provided chairs- staring off at the dynamic sky, holding dear the stillness we entered in admiration of the moment. Our host, Fawn Sharp, is a brilliant human and an inspiring story teller. We invited her to our fire and she brought her mother (one of the first women to participate in the Canoe Journey in 1989) and her soon-to-be 13 year old son. The conversation took us on a journey until the embers of the fire revealed the cool of the air and the early morning it had become. Fawn is the president of the Quinault Indian Nation and the vice president of the National Congress of American Indians... I HIGHLY recommend asking her about meeting President Obama and her grandmother who met FDR. Her accomplishments are many and her heart fills the space. You'll feel it in the details she's created, the comfort you feel, and the welcoming you'll experience. There are many options for camp spots. We opted for the more private spots around the bend of the river. Although it's closer to the sounds of the highway, you'll be so overwhelmed by the beauty, you won't hear anything beyond the teamwork of swallows, the feasting of jumping fish, and the call of an occasional great blue heron. Our imaginations got carried away at night when the bushes shook wildly outside my tent, but we eventually discovered an aloof raccoon and her family snacking in the tree above my friend's tent. Although we weren't treated to the brilliance of a sunset nor sunrise due to cloud cover (plan for the rain forest), we were gifted many times over by the spiritual space rich in culture and history. Do bring your camp pad as the mowed reeds are a bit pokey, but the softness of the fall extension of river bed provides enough give of the land to make it comfortable. Fawn warned of distant logging trucks in the morning. If you're a light sleeper, bring earplugs. Definitely plan for at least two nights... You'll want a full day to journal write, read, or simply stare off into the stillness.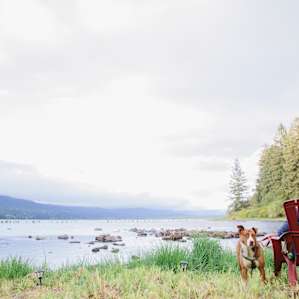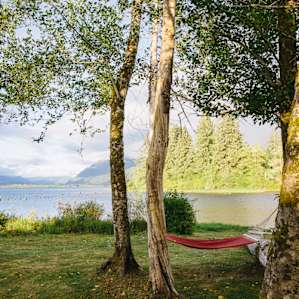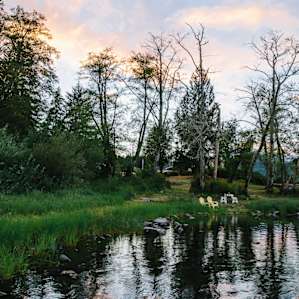 Recommends this listing
What an amazing campsite!!! Our group stayed on site #1, there was enough space for all... complete with a nice new picnic table, a fire pit, a lazy hammock... what more could you ask for?! Our host Fawn was lovely and very accommodating, she is sharing a beautiful place here, I feel lucky to have found it. Bonus: I took an early swim before breakfast on the serene and glassy Lake Quinault... just me and herons... so peaceful and delightful... we will definitely be back for more of this!!! Thanks Fawn!!
Recommends this listing
If you're in search of a peaceful retreat, look no further than this site. Fawn has worked hard to craft a place of wonder and relaxation for her guests enjoy. She and her family worked hard to make sure our stay was as comfortable and enjoyable as possible, including providing us with freshly picked peaches. In addition to the stunning views of Lake Quinault, we were treated to a spectacular showing of the peninsula's wildlife including blue heron, river otters, and even a black bear cub from our campsite. (Don't worry, the bear cub was on the other side of the river away from camp) Make sure you book at least two nights so you can spend one day relaxing by the water.
Recommends this listing
Beautiful campsite, couldn't of asked for a better end to our road trip. Each site is right on the water with a fire pit and chairs, lots of grass to play on. Lots of nice features around the property, there are secluded campsites if you want privacy and larger ones if you want more space. Gorgeous views everywhere you look. Fawn is a wonderful hostess. Book here you will not be disappointed!
Recommends this listing
Great spot! Friendly host, beautiful scenery, clean and maintained.
Recommends this listing
The property was easy to find, and Fawn was a welcoming host upon our arrival. All campsites are on the water and come with comfy chairs and a fire pit. Highly recommend this peaceful location for your next weekend trip!
Recommends this listing
I stayed here with a group of 6 friends over Labor Day weekend. It was my first time using HipCamp to book a campsite and I was very pleased with the experience. Fawn is a wonderful host and it was fascinating learning about the history of the land and Quinault Tribe. The site we stayed in (#3) was right on the water with a nice fire pit, picnic table and plenty of space for our tents. We enjoyed the lake, floating, paddle boarding and fishing all weekend. The lake is so serene and we caught a glimpse of the bear cub that lives across the river. Fawn also arranged for a tribal storyteller to stop by our site for campfire stores! Being labor day weekend the property was pretty packed with other groups. We didn't mind, but good to be aware of if you are looking for more privacy.
Recommends this listing
Such a fantastic retreat, Fawn was so accommodating and sweet!