Ginkgo Petrified Forest / Wanapum Recreational Area
Leave review
About Ginkgo Petrified Forest / Wanapum Recreational Area
Ginkgo Petrified Forest State Park looks a little bit like an alien wasteland out of our sci-fi dreams, thanks to a barren basalt landscape carved out during the Ice Age. Dubbed one of the "most unusual fossil forests in the world," the 7,470-acre park will please the nerdy geologist in all of us. Hike the Trees of Stone Interpretive Trail to oogle at over two dozen petrified logs scattered along this ancient fossil bed. Then take a trip to the park's interpretive center to check out an incredibly diverse collection of petrified wood. Bonus: the interpretive center affords breathtaking views of the unique landscape, Sentinel Gap, and the mighty Columbia River. Speaking of the river, boating, swimming, fishing, and water skiing are popular activities at the park. So pack up the car and head over to Ginkgo Forest to experience some truly unique beauty.
Campgrounds in Ginkgo Petrified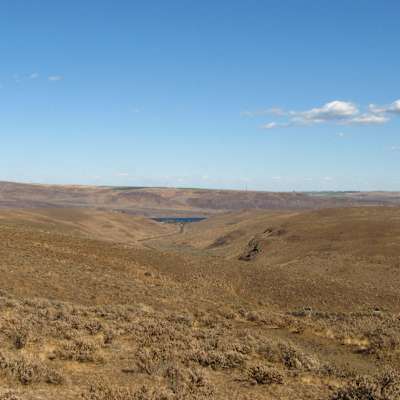 Thanks to full electric, water, and sewer hookups, RV camping is especially popular at Ginkgo Petrified Campground although tent campers are...
1 Save
Reviews
No one? Bueller? Sharing is caring, y'all.
Drop some
Ginkgo Petrified
knowledge on us.
History of Ginkgo Petrified Forest / Wanapum Recreational Area
The park is home to the Vantage Forest, one of the most diverse groups of petrified wood species in North America. Professor George Beck was the first to fully recognize the site's significance. Upon his 1932 discovery of a rare petrified Ginkgo log (Ginkgo biloba), Beck led efforts to set aside this remarkable forest and preserve it. In 1935, as part of a grand vision to establish the site as a National Monument, Ginkgo Petrified Forest State Park was born.
During the midst of the Great Depression, emergency work relief funds were used to protect and develop the park. Between 1934 and 1938, Civilian Conservation Corps enrollees, as well as local emergency work relief laborers, built much of the park infrastructure we see today, including ranger residences, an interpretive center, and a trail-side museum and trail system. In 1965, the park was formally registered as a National Natural Landmark.
Construction of the Wanapum Dam in 1963 silenced the waters of the adjacent Columbia River. To enhance public access, state park management was expanded in 1974, and most recently in 2012, to provide overnight and day-use facilities along the shores of the Wanapum Reservoir.