About Fort Flagler State Park
Look out! Fort Flagler has got you surrounded on all sides—by water! Okay, maybe not all sides, but close enough. The park on this peninsula overlooks Puget Sound, and if endless ocean views aren't enough for you, you can also spot the Olympic and Cascade Mountains looming in the distance. Once you're done admiring the view (which we predict will take a while), check out the park's miles of hiking and biking trails, salty shoreline, and historic buildings. For a small fee, you can even take tours of the fort's gun emplacements and century-old military hospital. When you're back out in the breezy oceanside air, try your hand at kite flying, or it's more adventurous cousin—hang gliding. End your day with a pre-dusk boat ride, and then watch the sun set from the park's boat docks. This is penninsula living at it's finest!
Campgrounds in Fort Flagler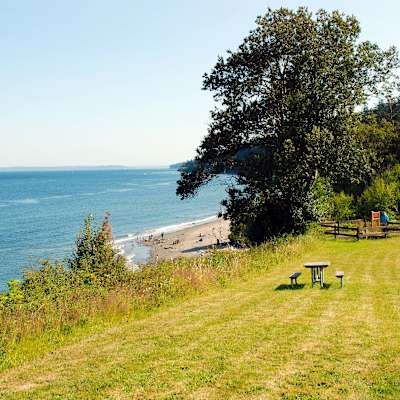 Beach bums: you'll want to post up at Lower Campground, since it's the closest spot to Fort Flagler State Park's salty, sandy coastline. You'll...
8 Saves
Reviews
No one? Bueller? Sharing is caring, y'all.
Drop some
Fort Flagler
knowledge on us.
History of Fort Flagler State Park
Fort Flagler, along with the heavy batteries of Fort Worden and Fort Casey, once guarded the nautical entrance to Puget Sound. These posts, established in the late 1890s, became the first line of a fortification system designed to prevent a hostile fleet from reaching such targets as the Bremerton Naval Yard and the cities of Seattle, Tacoma, and Everett. Construction began in 1897 and continued in one form or another until the fort was closed in 1953. The property was purchased as a state park in 1955. Fort Flagler is named after Brigadier General Daniel Webster Flagler.