About Dosewallips State Park
At 425 acres, Dosewallips State Park is on the smaller side, but that doesn't mean it's any less important than other Washington state parks. In fact, Dosewallip is unique in that you can experience a number of both fresh and saltwater activities. The park's saltwater shoreline lies along the Hood Canal, while its freshwater shoreline is on either side of the Dosewallips River. Situated west of Seattle and just outside the eastern border of Olympic National Park, this state park makes for an excellent escape from the bustling cities of Seattle and Tacoma. If you're looking to make an extended visit, the campgrounds in Dosewallips are all pleasantly grassy in a rustic setting. So, what to do when you arrive? Well, boating and swimming in the river are popular activities, but you can also try your hand at clamming, crabbing, fishing, or even plucking oysters out of the water. No guarantees you'll find a pearl though. Whatever you decide to do, Dosewallips won't disappoint.
Campgrounds in Dosewallips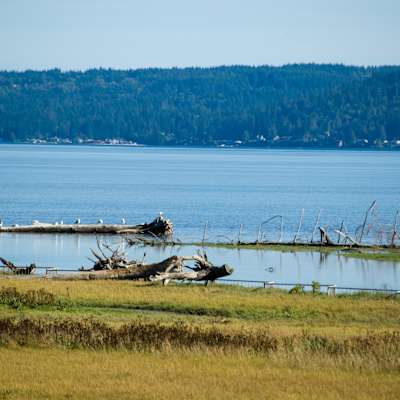 With nearby views of the Olympic Mountains, Dosewallips Campground has spaces for tents and RVs. Some sites are located in a forested area on...
Ash: T
2 Saves
1 Review
No one? Bueller? Sharing is caring, y'all.
Drop some
Dosewallips
knowledge on us.
History of Dosewallips State Park
Formerly called Dose Meadows, the flat fields of this park were old homestead sites prior to their existence as a park. Old rail beds are still in place where logs were hauled from the mountains down to the water prior to being floated to their destinations, ships and mills around Puget Sound.