About Columbia Hills State Park
Ever look at the panorama around you and wonder what was happening in this spot 15 million years ago? Well, at Columbia Hills State Park, your answer towers before you—Horsethief Butte. This magnificent wonder is made of hexagonal columns of Wanapum basalt flows, which were purged of most of their soil by the Bretz Floods at the end of the Ice Age. Epic. Kneeling at this marvel's feet is the 90-acre reservoir of the Columbia River created by the Dalles Dam, in which you can take a dip, drift in a canoe, or cast a fishing rod. It's easy to see why we're obsessed with this place. Ponder the mystery of nature as you hike the 12.4 miles of trails, take a guided tour, or try your hand at sailboarding at this breathtaking haunt. Thirsty for more info? Snag a peek at the Additional Information section on the
park's website
for the 411 on butte-climbing tips, wildlife to look out for, and more.
Campgrounds in Columbia Hills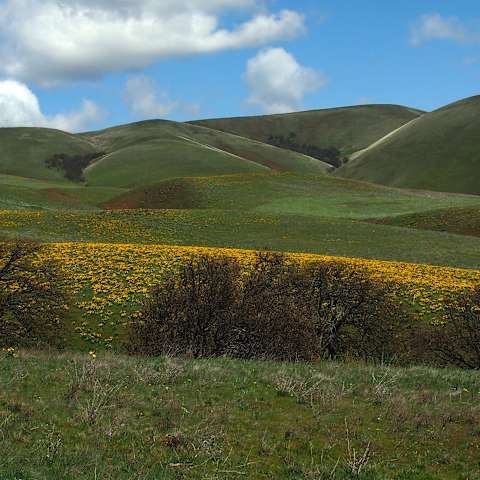 With a little bit of this and a little bit of that, Columbia Hills Campground can more than likely...
Reviews
No one? Bueller? Sharing is caring, y'all.
Drop some
Columbia Hills
knowledge on us.
History of Columbia Hills State Park
For centuries, the park was the site of a Native American village. The Lewis and Clark expedition camped at the village and described its wooden houses in one of their journals. The village was flooded by the waters of The Dalles Dam.
Oral history states that the park received its former name, Horsethief Lake State Park, from workers in the U.S. Army Corps of Engineers who developed the site. The workers thought the terrain was similar to that of horsethief hideouts in popular 1950s Hollywood westerns. The abundance of horses kept on the premises by local Indians apparently gave the workers their inspiration.
The commission combined the park with Dalles Mountain Ranch and renamed the area Columbia Hills State Park in 2003.