About Cape Disappointment State Park
Camp Disappointment is anything but! Named after a human error, the reality is Mother Nature gets a gold star for this one. Boasting views of both the Pacific Ocean and Columbia River, two miles of beach, old growth forests, lakes, and marshes, Camp Disappointment State Park is no mirage. Come hungry, this place is a mecca for seafood connoisseurs. Fresh and saltwater fishing, clamming and crabbing are all encouraged at the 1,882 acre camping park (with a permit of course!). Speaking of camping check out this breakdown: 137 standard sites, 60 full hookup sites, 5 primitive, 14 yurts and 3 cabins! Are we there yet? Oh ya, almost forgot there are eight miles of hiking here! Whew. So much to do. So little time.
Campgrounds in Cape Disappointment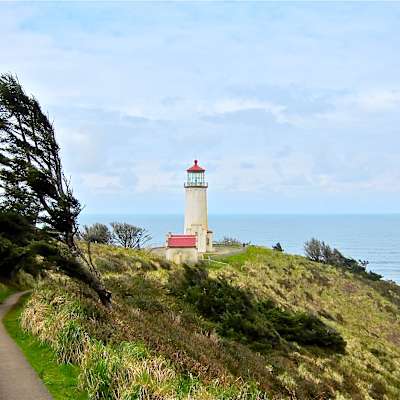 When it comes to camping, Cape Disappointment is a choose your own adventure. It's stocked with a whopping 137 standard campsites, 60 full-hookup...
36 Saves
History of Cape Disappointment State Park
In 1788, while in search of the Columbia River, English Captain John Meares missed the passage over the river bar and named the nearby headland Cape Disappointment for his failure in finding the river. In 1792, American Captain Robert Gray successfully crossed the river bar and named the river Columbia after his ship, the Columbia Rediviva. Only a few years later, in 1805, the Lewis and Clark Expedition arrived at Cape Disappointment.
The Cape Disappointment Lighthouse was constructed in 1856 to warn seamen of the treacherous river bar known by then as the graveyard of the Pacific. This is the oldest functioning lighthouse on the West Coast.
In 1862, Cape Disappointment was armed with smoothbore cannons to protect the mouth of the Columbia River from enemies. The installation was expanded to become Fort Canby in 1875. The fort was named after General Edward Canby, who was killed in the Modoc Indian War. The fort continued to be improved until the end of World War II. Gun batteries still sit up top the park.