About Monahans Sandhills State Park
You surf, you snowboard, but have you ever sandboarded? You won't get pitted riding down the face of a dune, but you can totally send it on a sled or sandboard at Monahans Sandhills State Park--3,840-acres of sand-tastic fun on dunes up to 70 feet high! Ever drove a tent stake into the sand? Well here's your chance and for a small entrance fee ($3) per person, Monahans Sandhills is your oyster. Head to the park HQ to rent a toboggan or disk, start a game of sand football, or BYOH (bring your own horse). The park has a few equestrian amenities such as a fenced corral where riders can tie and water their horses. And as far as trails go… There is an 800-acre equestrian area with no marked trails so your guess is as good as ours! Whether you come to ride a horse, ride a sled down the dunes, or... relax in the sand? Monahans Sandhills State Park is a desert oasis in Texas that's worth the visit!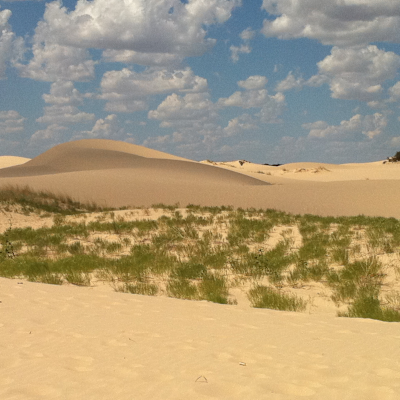 Willow Draw Campground is comprised of 24 campsites over 3 miles of concrete and sand. Sites are equipped with sand, picnic table, sand,...
2 Saves
Reviews
No one? Bueller? Sharing is caring, y'all.
Drop some
Monahans
knowledge on us.
History of Monahans Sandhills State Park
Monahans Sandhills State Park consists of 3,840 acres of sand dunes, some up to 70 feet high, in Ward and Winkler counties, about a half-hour's drive west of Odessa. The state leased a majority of the land from a private foundation (Sealy-Smith Foundation) in 1956 until 2056, and the park was opened in 1957. The Williams family of Monahans also leased approximately 900 acres to the state for the park.
More than 400 years ago, Spanish explorers were the first Europeans to report the vast hills of sand. Native Americans were present in this area as far back as 12,000 years ago. Various Indian tribes used the area for temporary campgrounds and a meeting place, finding game, abundant fresh water beneath the sands, acorns, and mesquite beans for grinding into paste with their stone tools.
The area remained a favorable environment for Indians until the 1880s, when the Texas and Pacific Railroad selected Monahans as a water stop between the Pecos River and the town of Big Spring. In the late 1920s, oil production began in the area, now commonly known as the Permian Basin, and today Monahans is a marketing center for more than 800 square miles of oil and cattle country.