About Martin Creek Lake State Park
Big things come in little packages, and that's nothing short of true for 286-acre Martin Creek Lake State Park! The park is located on 5,000-acre Martin Creek Lake, where anglers can reel-in largemouth bass, crappie, channel catfish, perch, ball and sunfish on the daily, year-round. If angling ain't your thang, no problemo. Park-goers can explore a bevy of bird watching, backpacking, and biking on 6 miles of nearby trails. Stay at one of two main campgrounds or discover solitude at first-come primitive sites that sit on a smaller, adjoining island at the southeast end of the park. Plan your outing from October through November and you'll be welcomed by a seasonal palette of colorful foliage, otherwise, anytime of the year is prime at this little park in big Texas!
Campgrounds in Martin Creek Lake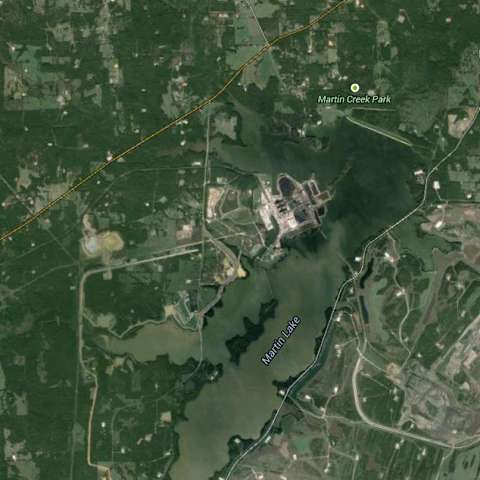 All the buzz at Bee Tree Campground is about being by Martin Creek Lake and steps away from miles of...
Reviews
No one? Bueller? Sharing is caring, y'all.
Drop some
Martin Creek Lake
knowledge on us.
History of Martin Creek Lake State Park
Martin Creek Lake State Park, which consists of 286.9 acres, is located in Rusk County, southeast of Longview. It was deeded to the Texas Parks and Wildlife Department by the Texas Utilities Generating Company on June 23, 1976, and was opened to the public the same year. The park is located on 5,000-acre Martin Creek Lake, constructed to provide cooling water for a lignite-fired, electric power generation plant.
The park and surrounding area have been inhabited by people since 200 B.C. Until the 18th century, Caddoan Indians and Spanish explorers lived in and traveled through this area. Later the Choctaw, Cherokee and Kickapoo Indians migrated here in response to the increasing influx of Anglo Americans. Visitors can still see the old roadbed of Trammel's Trace near the fishing pier. It was an Indian trail that became a major route for settlers moving to Texas from Arkansas. In 1833, Daniel Martin, for whom the park is named, settled with his family near the creek called Hogan's Bayou at the time. He and his neighbors eventually built a small fort and then a town called Harmony Hill. It reached its heyday after the Civil War, but it was deserted by 1900 and was struck by a tornado in 1906. Only one Civil War-era building remains today, and it has been converted into a storage shed. Traces of the old roads that brought prosperity to Harmony Hill can still be seen in the park and are part of the hiking trail.