About Lake Bob Sandlin State Park
"Lake Bob." Even that name seems so simple, friendly, unassuming, and accommodating. That is Lake Bob Sandlin State Park in a nutshell. It's not rugged and intense like a Lake Bruno might be, but it's also not boring like, say, a Lake Pasqual. Lake Bob is a friend to families and is just looking to make sure that everyone has the best weekend they can. The lake itself is usually at a good level and is great for fishing; boating and swimming can be tough due to all of the tree stumps hidden just beneath the surface. The park's 641 acres, great for light hiking and mountain biking, will leave you refreshed rather than exhausted. The scenery is gorgeous, and the camping is serene. The rangers here do their best to stay true to the character of Lake Bob and are widely regarded as some of the friendliest and most accommodating rangers in the state. If only weekends with quirky Uncle Bob were as refreshing as those at Lake Bob.
3 Reviews
No one? Bueller? Sharing is caring, y'all.
Drop some
Lake Bob
knowledge on us.
Had a blast this past weekend and plan to go back. Definitely will plan on reserving a spot by the water. Stayed at site #49 and was close to restrooms. Super quiet at night and lots of shade during the day with all the trees. Dogs aren't allowed in public swimming area FYI, which is understandable. We're able to find a small trail that led to an area they could play by the water.
Remove vote :(
This is an idyllic camp spot. Broken Bow has 8 waterfront campsites which are highly recommended for watching the sun do its thing. The interior loop is tucked in the whistling pines. All of the campsites are super private and spacious. Nearby at the swim area you'll find a floating dock which is perfect for sunbathing and cannonballs.
Remove vote :(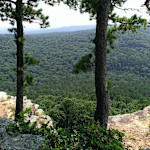 One of my favorite state parks. The trails are well paced and well marked. I have stayed in several number campsites in both areas, 42 and 43 worked great for me. The best is the primitive site down from the trout pond. The site is off the trail and just a short hike from the pond. The trails are clear and wide. There are nice hills and a few rocky spots. Easy hike for kids and the dogs.
Remove vote :(
History of Lake Bob Sandlin State Park
Lake Bob Sandlin State Park is a 639.8-acre park located on the heavily wooded shoreline on the north side of the 9,400-acre Lake Bob Sandlin, southeast of Mount Pleasant in Titus County. It was acquired in 1979 and was opened in 1987.
There is evidence of prehistoric Caddoan people, who occupied East Texas from 200 B.C. to 1700 A.D. The French and Spanish periodically occupied the area, establishing relations with the Caddo. Choctaw, Cherokee and Kickapoo moved into East Texas in the late 18th to early 19th century. By 1841, Fort Sherman, a wooden stockade whose site is believed to be in or near the park, was established. The Fort Sherman cemetery is located in the park. Since 1860, the land has been used for farming and ranching.