About Huntsville State Park
Once you discover the majestic flora and fauna of the East Texas Piney Woods in Huntsville State Park you may never want to leave! By water, you'll find endless activities on the 210-acre Lake Raven including fishing for largemouth bass and crappie, boating, and swimming with the alligators. Wait, definitely don't swim with the gators! Make sure to stay in the designated swimming area and brush up on local swimming safety tips before going for your morning or evening dip. By land, you can journey among 21 miles of trails, or go off the grid and embark on the 129-mile Lone Star Hiking Trail that crosses the Sam Houston National Forest. If the air is your avenue of exploration, you'll discover a plethora of feathered friends, at around 250 identified species in the park. There really isn't a bad spot in Huntsville State Park, as most sites - whether a comfy screened shelter or one of 160 tent campsites - border Lake Raven in this wooded wonderland.
Campgrounds in Huntsville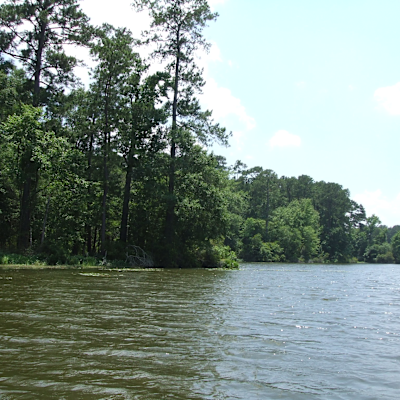 Come tents, come RVs, come all to Prairie Branch Campground! Here you'll find a little bit of everything, including a nearby playground, fishing...
Texas: We camped at Huntsville in the dead of winter and were the only campers at the entire park! It was a bit surreal and such a...
6 Saves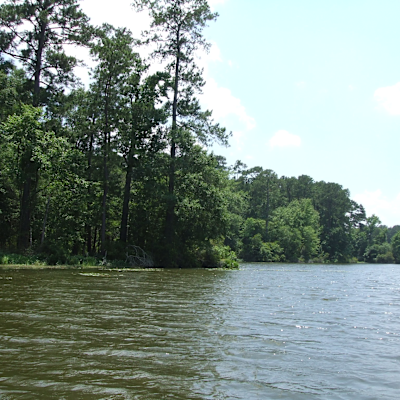 Raven Hill is the place to park your four-wheeled crib! Backing it up is encouraged at these sites designed for motor-homes and other recreational...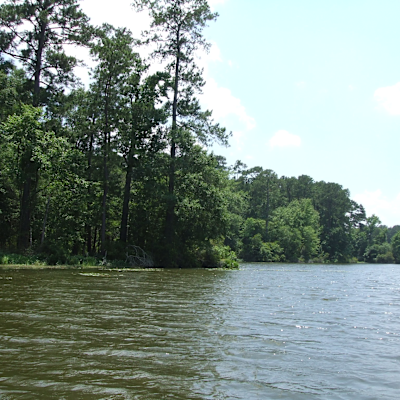 Coloneh Campground is tent-tastic! If you're looking for a low-key getaway at Huntsville State Park, then this campground is your gem. Located...
3 Reviews
No one? Bueller? Sharing is caring, y'all.
Drop some
Huntsville
knowledge on us.
We camped at Huntsville in the dead of winter and were the only campers at the entire park! It was a bit surreal and such a beautiful experience. We were able to bundle up and canoe Lake Raven not having to worry about alligators (which there are warning signs everywhere in the park) and being able to relax in the stillness and quietness of the Piney Woods.
Helpful 3
Helpful 3
Remove vote :(
We go to Huntsville often to take an easy escape out of Houston.. It also has easy to learn on Mountain biking trails for anyone looking to get into the sport
Helpful 1
Helpful 1
Remove vote :(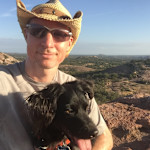 Having done dozens of trail races here, I feel like I know every turn, hill, and root in the park. It's a great park for getting out in nature. The camping at Huntsville State Park is fairly straightforward, although pleasant. Plenty of tent and RV sites as well as cabins, a few of which are climate-controlled. Summer camping is tough. Heat, humidity, and mosquitoes create a challenging environment, but fall, winter, and spring camping is very pleasant. There are no primitive camping sites in the park, so when you wander the trails, you'll head back to the drive-up sites to call it a day. Canoeing and fishing is very popular here as well.
Helpful 0
Helpful 0
Remove vote :(
History of Huntsville State Park
In the early 1930s, at a meeting of the Huntsville-Walker County Chamber of Commerce, it was suggested that a park be built around Huntsville. The Chamber of Commerce took the proposal to the Texas State Parks Board. The board required that the community provide the land for the park. Twenty thousand dollars in bonds would have to be sold by Walker County to pay for the land needed. In early 1936, the bond issue passed with more than four to one in favor of selling the bonds.
From 1937 to 1942, Civilian Conservation Corps (CCC) Company 1823(CV), an experienced company of African American World War I veterans, made initial improvements to the site, including construction of the combination building, the boat house, and the dam and spillway creating Lake Raven. The company also had to clear the future lake bed of standing timber before filling the lake. Other CCC projects in the park included a swimming platform, stone culverts, picnic areas, Lakeshore Road, a bridge, stone road-curbing, a well, water intake structure, and frame pump house. The spillway gave way after a 1940 flood and Lake Raven drained. This scuttled plans to build a bath house and cabins.
CCC Companies 873 and 1827 were assigned to the area between 1933 and 1937 for firefighting and flood control. They also built unpaved roads within the park, which have mostly grown over.
With the start of World War II, the CCC's work ended, but Works Progress Administration workers and prison laborers completed projects that included building roads and water and septic systems, allowing limited use of the park in summer months during the war.
A private contractor began repairs on the dam in 1955 and it was completed in April, 1956. The Huntsville-Walker County Chamber of Commerce dedicated and opened Huntsville State Park to the public on Friday, May 18, 1956.