About Hueco Tanks State Park & Historic Site
Rising red and rocky from the Chihuahuan desert like a mirage, the West, North, and East Mountains dominate Hueco Tanks State Park. The low, stocky rock formations are perfect for wedging hands and feet up their sides! Climbers come from all over the world to try their hand at mounting the mountains at Huecos Tanks. If you want to join them, dress for the desert and bring your own gear -- and call ahead. Since this is a sensitive natural area, only a certain number of people are allowed in the park at one time, so get your name on the guest list (at least you don't have to deal with surly bouncers). There are opportunities for hiking, picnicking, and bird watching too -- just be sure to also watch out for the five different kinds of rattlesnakes found in the park (side note: peeing on a snake bite will not help!). And Hueco Tanks boasts a pretttty wicked art collection -- pictographs and petroglyphs dating back over 1,000 years dot rock walls. Grab a spot on a guided tour to see the really amazing stuff. Not to be outdone, nature puts on a dazzling display, too, when the sun goes down; nothing beats stargazing in the desert at Hueco Tanks.
Campgrounds in Hueco Tanks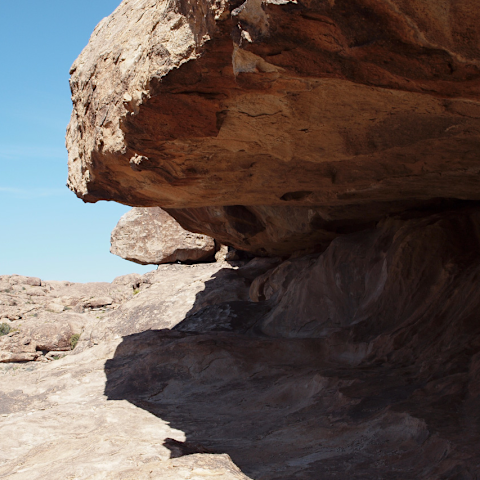 Kiana: Hueco Tanks is one of the most fun places I have ever hiked because its kind of like a giant...
Photos
This park doesn't have any submitted photos—just yet.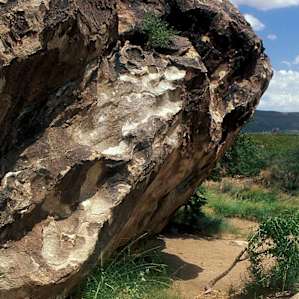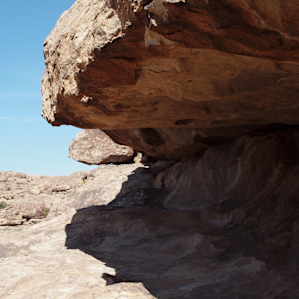 1 Review
No one? Bueller? Sharing is caring, y'all.
Drop some
Hueco Tanks
knowledge on us.
Hueco Tanks is one of the most fun places I have ever hiked because its kind of like a giant playground to explore. Once you get on top of the rock formation the exploration and searching for petroglyphs is endless. But MAKE SURE you have a reservation, even just for day visiting as the number of people in the park is limited per day. And camping reservation doesnt equal park reservation. You need one for each.
Remove vote :(
History of Hueco Tanks State Park & Historic Site
Clues from the past
Throughout the last 10,000 years, Hueco Tanks has provided water, food and shelter to travelers in the Chihuahuan Desert. People left clues to their stories in the pictographs and petroglyphs found here.
Early hunter-gatherers pursued game across the desert. They gathered wild plants for use as food, fiber and medicine. Hueco Tanks provided these items as well as water in an arid landscape. Their images tell hunting stories and feature geometric designs.
Around A.D. 1150, agricultural crops such as corn, beans and squash came into use. The Jornada Mogollon people began farming at the base of the rock hills, where they had access to water for their crops. They built a small cluster of pithouse structures, studied by archaeologists in the early 1970s. Remains of their agricultural life include pottery shards, stone tools and water control features.
These people also left images in the park. Their imagery of animals, birds and large-eyed figures may represent rain or storm deities. The most renowned images are "masks" or face designs. Hueco Tanks has the largest grouping of such masks in North America, with more than 200 identified.
After the arrival of the Spanish, native people continued to visit Hueco Tanks, looking for water and shelter. The Kiowa, Mescalero Apache, Comanche, Tigua and the people of Isleta del Norte Pueblo consider the site to be a meaningful part of their heritage.
Their rock images are of handprints, dancing figures, horses, weapons and humans in European clothing. These images may show stories of celebration, tradition, conflict and change.
Native Americans created trails through what is now the park. They led military scouts and travelers along those trails beginning in 1692. In following centuries, gold-seekers, cattle drovers, surveyors and others left their marks on the rocks here, too.
The Butterfield Overland Mail began operations in 1858. For the first time, people separated by nearly 2,000 miles of wilderness could communicate. Because of its water sources, Hueco Tanks served as a relay station for a year, until a safer southern route was established.
Hueco Tanks State Park and Historic Site was originally part of a large ranch owned by Silverio Escontrias. Escontrias filed ownership papers for the ranch in 1898. He built a four-room adobe house at Hueco Tanks, and he and his wife Pilar raised 11 children here. Their ranch, which began as a cattle and horse operation, became a tourist attraction by the 1940s. Today, the park's interpretive center is located in the family's adobe house.
Military units from nearby Fort Bliss trained at Hueco Tanks in the 1940s and 1950s.
Local historians and area residents worked for years to convert Hueco Tanks to a park. In 1957, the legislature approved creation of a state park on the site. But the property owners continued to operate it as a tourist destination. They built on and altered the site, until El Paso County finally bought it in 1965. The county managed the park until 1969, when the state took it over.
The Escontrias ranch house is now the park's interpretive center.
Hueco Tanks State Park and Historic Site opened to the public in May 1970. Since then, the state has carefully added facilities like trails and campsites. It has also studied and inventoried the pictographs, petroglyphs and other historical features.
Today, we limit access to the park's 860 acres to protect its resources. Enjoy, but do not disturb historical places. If you find an artifact, leave it in place and let park staff know.
Because of its world-renowned body of rock images, the park is designated as a State Archeological Landmark. It is also listed on the National Register of Historic Places.