About Caprock Canyons State Park
Turns out South Dakota isn't the only place where you can find the rebellious and untamable geological features known as the badlands. High up in the chimney-shaped region of northern Texas, these sedimentary slopes also cover much of the terrain on these 15,314 acres of park land. Amidst the mesquite trees, cacti, junipers, hackberries and cottonwoods you might come across the elusive speedster of Looney Tunes fame, roadrunner, or his feisty counterpart coyote (who in real life is much more competent... and dangerous!). Other species of wildlife commonly seen at Caprock Canyon include deer, opossums, bobcats, raccoons, foxes, porcupines, snakes, lizards and African aoudad sheep. Popular activities in the park are horseback riding, no-wake boating, fishing, hiking and biking. Just be careful when it starts to get dark out. We wouldn't want you running into any of the wild buffalo roaming around the park now would we!
Campgrounds in Caprock Canyons
7 Reviews
No one? Bueller? Sharing is caring, y'all.
Drop some
Caprock Canyons
knowledge on us.
This is the best campground in the park! Beautiful views of the canyons and lots to explore right from your site. It being infamous for rattlesnakes is no joke so watch your step! We also came across lots of other wildlife in these isolated sites.
Helpful 3
Helpful 3
Remove vote :(
The South Prong campground is a developed area for tent camping with bathrooms but no showers. This is a good starting point for the Upper Canyon Trail. This underrated state park is remote enough that it doesn't get that crowded. There's little to no shade, and like the rest of Texas, it gets hots. Plan accordingly and take plenty of water. The vibrant colors and lack of crowds here make it well worth the visit.
Helpful 2
Helpful 2
Remove vote :(
the Little Red Tent campground at Caprock Canyon State park is a tent only camping area. If you do not mind having to walk a few minutes to the restroom this is a great area. It is beautiful and every time I have stayed here, my group was the only group camping in the entire campground. The entire park is accessible 24 hours a day unlike many of the other parks that lock their gates at 10pm. I often stop here when I am running long trips to Colorado or Utah to sleep for the night, before continuing to Houston the next day.
Helpful 1
Helpful 1
Remove vote :(
Starting from the trailhead at the South Prong Camping Area, this is a flat, easy backpacking trip of just over a mile. The campsites are not private, with a communal, circular pad in the center and sites situated around the perimeter. Kind of a bummer, but there's a good chance there will be no one else there since this park isn't as heavily used as those in central TX. There's no shade, but there is a primitive toilet.
Helpful 1
Helpful 1
Remove vote :(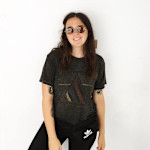 We loved staying at Caprock Canyon. I had been talking about going to Palo Duro Canyon over Labor Day Weekend with friends but being a holiday, all the campsites were already booked. The state park website directed us here instead, and we're so glad it did! We'd never been before and it was only about 4 hours west of us; so we packed up and hit the road.
We arrived around midnight and after driving through a herd of bison, set up camp at the South Prong Campground. Since it was dark when we arrived, we couldn't see the beauty that surrounded us until morning. It was amazing. A perfect view of the sun rising against the red rock made the campfire coffee taste better. We really loved this campsite and would definitely be back.
Helpful 1
Helpful 1
Remove vote :(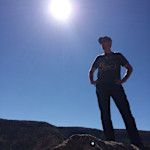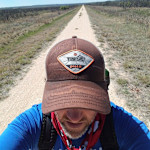 It's about a mile hike to the campsite, easy with very moderate inclines. There is a composting toilet that always had toilet paper when I was there. Plenty of room to spread out - you can wander a bit into the surrounding area to find some seclusion. The scenery around the sight is just gorgeous, and it's well situated to hit all the key hiking trails in the park. I would definitely recommend this underrated State Park and this campground in particular.
Helpful 0
Helpful 0
Remove vote :(
History of Caprock Canyons State Park
Caprock Canyons State Park, 100 miles southeast of Amarillo in Briscoe County, was opened in 1982. It consists of 15,313.6 acres (including the Trailway, a 64.25-mile Rail-to-Trail conversion, acquired by donation in 1992 from a railroad entrepreneur). This acquisition added recreational adventure, stretching from the western terminus at South Plains up on top of the caprock escarpment to the eastern terminus of Estelline in the Red River Valley. This multiuse trail (hike, bike, and equestrian), opened in 1993, stretches the park through Floyd, Briscoe, and Hall counties crossing 46 bridges and running through Clarity Tunnel, one of the last active railroad tunnels in Texas. The 64.25 miles of the Trailway are open to the public from Estelline to South Plains.
The escarpment's scenic canyons were home for Indians of several cultures, including the Folsom culture of more than 10,000 years ago. A decrease or disappearance of some species, from Folsom times to present, indicates a gradual drying and perhaps warming of the climate. Later paleolithic hunters, associated with the Plainview culture, also occupied the area from 8,000 to 9,000 years ago. Only slight traces of these people have been found at Caprock Canyons. As the climate became increasingly drier, the period of hunting and gathering cultures began. Smaller animals, as well as plant materials, made up the diet of the people. The Archaic period lasted from 8,000 to 2,000 years ago. Artifacts from this period include boiling pebbles for heating food, grinding stones for processing seeds, oval knives, and corner-notched or indented dart points. The Neo-Indian state was characterized by the appearance of arrow points and pottery. During the latter part of this period, 800 years ago until the Spanish exploration, permanent settlements were established, and agriculture was being practiced to some extent. These people traded Alibates flint for pottery, turquoise, and obsidian from the Puebloan groups to the west.
The region's historic era began when Spanish explorer Coronado traveled across the plains in 1541. After Spanish colonies were established in New Mexico around 1600, two-way trade between Plains Indians and New Mexicans began and gradually increased. The Plains Apache, present when Coronado arrived, acquired horses and became proficient buffalo hunters. They were displaced by the Comanche, who arrived in the early 1700s and dominated northwestern Texas, until they were finally subdued in the 1870s. During the Comanche reign, trade prospered and New Mexican buffalo hunters, known as ciboleros, and traders, known as Comancheros, were frequent visitors to this area. Las Lenguas Creek, a few miles south of the park, was a major trade area, and a site excavated on Quitaque Creek has produced artifacts indicating that it may have been a cibolero camp.
After 1874, Anglo settlement began, counties were organized, and ranches were established. Famed cattleman Charles Goodnight moved cattle into Palo Duro Canyon in 1876. In 1882, he bought vast areas of land for John G. Adair, who became owner of the noted J. A. Ranch. The land on which the park is located was included in the purchase. A railroad was built into this area in 1887, and by 1890, the town of Quitaque, with a population of 30, was a regular stage stop. The use of suitable lands for farming increased as more settlers arrived in the early 1900s, but most of the broken country is still ranch land. After passing through the hands of several owners, most of the land that now lies within park boundaries was acquired in 1936 by Theo Geisler, who died on August 15, 1969. The state purchased the land in 1975, and the park's Lake Theo was named after Geisler.