About Smith Rock State Park
Smith Rock State Park is made up of rock statues that could be from Mars or an 8-year-old's prolific imagination--either way--they need to be seen to be believed. This red-earthed wonderland is a chiseled desert playground that beckons climbers, horseback riders, hikers, campers and binoculars ever-aimed toward golden eagles. Aside from being one of the most sought out rock climbing destinations in the Northwest, it's also a sunny sweet spot (300 days a year!) to contrast Oregon's generally rain ridden reputation. Make an afternoon in Bend part of your Smith Rock adventure and sample one of the many craft beer options this town is known for. Prefer coffee or tea to hops? Try a cup at fair trade local roasters, Backporch.
Campgrounds in Smith Rock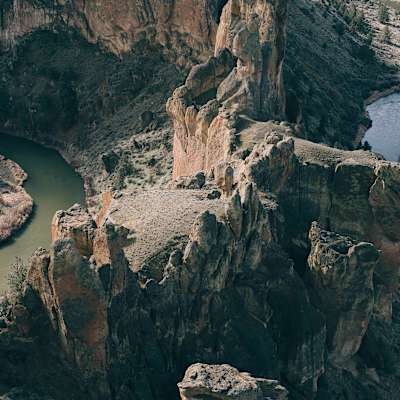 100% Recommend (5 Responses)
On a rimrock plateau where dusk bleeds into the Crooked River as water slices canyon, sits the setting for your camping adventure at Smith Rock....
Shawn: $5/night (per person), open walk-in camping area so you just find a spot. Was perfect for Hammocking. Bathrooms are nice,...
87 Saves
5 Reviews
No one? Bueller? Sharing is caring, y'all.
Drop some
Smith Rock
knowledge on us.
History of Smith Rock State Park
The park was obtained between 1960 and 1975 by purchase and gifts of land from the city of Redmond and Harry and Diane Kem. Many believe that Smith Rock is named in honor of John Smith a Linn County lawman or Pvt. Volk Smith a soldier who fell to his death in the park during a battle with the Northern Paiute in 1863. The debate continues…