About Silver Falls State Park
It's hard to imagine civilization exists outside of Silver Falls State Park. It's hard to imagine there's a town and a coffee shop just a stone's throw away. It's not surprising that one million people visit Silver Falls per year, but it is surprising how magical it all is, even with other humans around. This state park is one long, spectacular homage to the beauty of the waterfall and if you hike the
Trail of Ten Falls
loop, you'll witness them all, like leftover fountains from a wilder era of earth.
Campgrounds in Silver Falls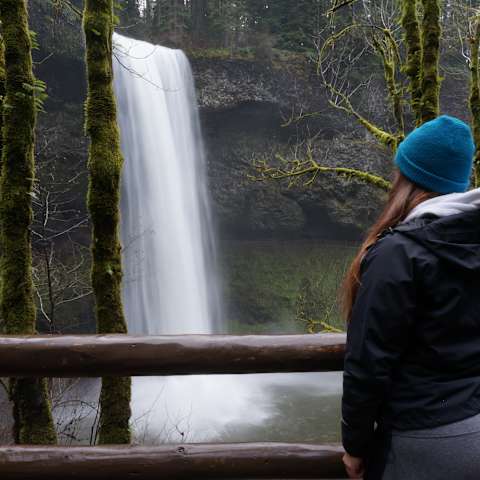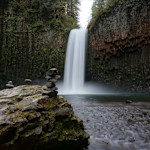 Makenzie: Great go to campground that is very kids/family friendly. Easy trails for kids or the elderly. Also...
3 Reviews
No one? Bueller? Sharing is caring, y'all.
Drop some
Silver Falls
knowledge on us.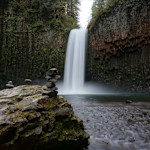 Great go to campground that is very kids/family friendly. Easy trails for kids or the elderly. Also don't forget your bike! This State Park has trails for riding your bike.
Remove vote :(
Beautiful, Stunning water falls, great fireplace in the lodge.
Remove vote :(
Great family friendly, and easy, camp ground. Love the large off leash dog area! Sites are not too close together either!
Remove vote :(
History of Silver Falls State Park
Silver Falls State Park opened July 23, 1933. But its history began long before.
The Kalapuya and Molalla, whose ancestors came to the Willamette Valley about 14,000 years ago, were the native people in the Silver Falls area when whites arrived as early as 1812. Natives numbered about 15,000 in the Willamette Valley prior to white settlement, but populations began to decline due to European diseases against which natives lacked immunity. By the early 1840s, their population dropped to about 600 and whites were coming in large numbers. By 1850 hundreds of whites lived in and around the Silver Falls Area before completely displacing all the natives in western Oregon when they were relocated to reservations in 1854.
The first land homesteaded in Silver Falls was in 1883 next to South Falls. The next homestead land today takes in the South Falls Lodge, nearby buildings, and the park's main parking lot. On this same land, the town of Silver Falls City was platted in 1888. Never more than several dozen families at a time resided in it. Still, it was the de facto capital of Silver Falls, an area with a peak of more than 200 residents, and it lasted for over 40 years. In its time, it had three general stores, an eight-room hotel, church, dancehall, tavern, granary, blacksmith shop, houses with barns and other outbuildings, and several sawmills. A one room school was located a mile and a half south.
The Great Depression struck in 1929, and timber, Oregon's most important industry, tanked. The whole state, and Silver Falls along with it, was devastated. U.S. government programs for mitigating the effects of the depression also made the park the great park it is today. One program, the Civilian Conservation Corps, put young unemployed men to work constructing buildings, trails, bridges, retaining walls, and other park infrastructure - most of which are on the National Register of Historic Places. Through the Silver Falls Recreational Demonstration Area - a federal land acquisition, development, and transfer program - more than 5,000 acres were added to the park by 1948.
Two people stand out in the history of the park. June Drake, a Silverton photographer, conducted a long, unrelenting campaign to have the waterfalls and their surrounding area enclosed in a park. Samuel H. Boardman, the first superintendent of Oregon state parks, took a special interest in Silver Falls while expanding and developing the state's park system. Drake earned the honorary title of the Father of Silver Falls State Park and Boardman the title of the Father of Oregon State Parks.