About Prineville Reservoir State Park
Late spring through early autumn ushers in generally bright, sun-blessed days and summer afternoon thunderstorms that coat the canyon walls in an opal mist. Rock hunters can find many-a-treasure in this geology wonder-scape. Think agates with dendrites, white plume agates, moss agates, green jasper, Ochoco Chalcedony, thunder eggs and petrified wood. Prineville is a high desert paradise where the Ochoco Mountains act as a passage for effulgent waters that become the canyon cradled Crooked River. With the assistance of the Bowman Dam, the Crooked River shape shifts into the 3,000-acre Prineville Reservoir where you can jet ski, motor boat, kayak, fish and swim. Two campgrounds, year-round cabins, trail filled national forests, byways, bikeways, stargazing and abundant birding adventures make this state park a versatile treasure chest of outdoor reverence and watersport whimsy.
Campgrounds in Prineville Reservoir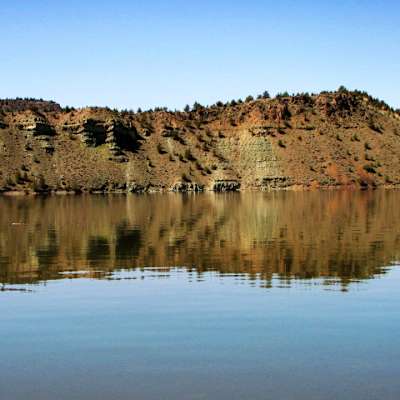 The main Prineville campground provides lake-soaked views and the tawny, ginger stripes of a desert canyon to gaze upon. It's a sanctuary for water...
1 Save
History of Prineville Reservoir State Park
As part of the Crooked River Federal Reclamation Project, the Department of the Interior authorized the construction of Bowman Dam between 1958 and 1961. The project's purpose was to furnish water for irrigation, flood control and fish and wildlife management. Through the Crook County Court, and a lease from the U.S. Bureau of Reclamation, the land for the park was obtained in 1961. A lease agreement between the Bureau of Reclamation and the Oregon Parks and Recreation Department allows the State to manage and maintain the natural resources and recreational uses on the reservoir.