About Clyde Holliday State Recreation Site
The Painted Hills, the Frenchglen Loop, The Malheur National Wildlife Refuge and the Kam Wah Chung State Heritage Site are just some of the treasures that define the area surrounding Clyde Holliday State Recreation Site. At Clyde, you can study the shape of the John Day River, you can marvel at the sweet spice of Cottonwood buds and sit under the shade of their willowy branches while you appreciate the noble posturing of Mountain Elk and soak in the raw beauty of eastern Oregon terrain. This oasis by the river is apt to keep you coming back again and again to hike, bird, bait a largemouth bass and pedal through the charm of old-timey scenic bikeways.
Campgrounds in Clyde Holliday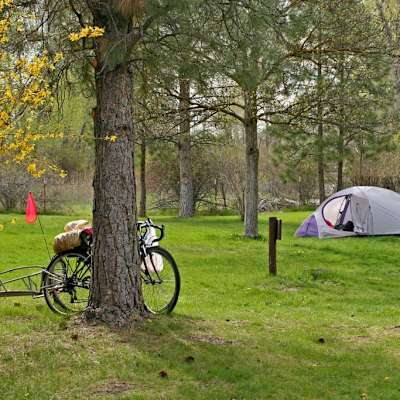 Your camping destination is nestled between the breeze of Cottonwood Trees, beside the canyon cradled John Day River. Clyde Holliday offers...
2 Saves
1 Review
No one? Bueller? Sharing is caring, y'all.
Drop some
Clyde Holliday
knowledge on us.
History of Clyde Holliday State Recreation Site
Clyde Holliday State Recreation area is near the John Day Fossil Beds and the Painted Hills. The Painted Hills protects fossils of extinct mammals, plants and insects that lived 30 million years ago and has color-banded domes formed by layers of volcanic sediment.
The land where Clyde Holliday stands was purchased in 1971 from Mr. and Mrs. Clyde Holliday and by a transfer from the Department of Transportation in 1976.