Cedar Bloom Open Camping
Nearby: Oregon Caves National Monument & Preserve, Rogue-River Siskiyou National Forest
Located right off the 199 Redwood Highway,  we welcome you to choose from 100 acres of forested camping located right on the Illinois river with a short walk down to our own private riverside beach and refreshing swimming hole. This listing means that you provide your own tent, van or RV. You can also sleep right out under the stars if you wish! The camp is also just a shor
Read more...
Located right off the 199 Redwood Highway,  we welcome you to choose from 100 acres of forested camping located right on the Illinois river with a short walk down to our own private riverside beach and refreshing swimming hole. This listing means that you provide your own tent, van or RV. You can also sleep right out under the stars if you wish! The camp is also just a short walk to the shared commercial kitchen, bathroom, shower house & Sauna . We have sites located right on the river but you cannot drive down and need to cart your goods.  Hipcamp gives a "site number" but there are no designated camping spots.  Just lots of open beautiful forest that you can choose from to camp.  We only ask that you leave the lower meadow open which is directly to the left of visitors parking. 
Cedar Bloom has available power and cell phone service. Cell phone service works great if you have AT&T or Verizon. Internet is limited but is available. We have several giant meadows with thousands of trees surrounding. We are right on the Illinois River with a mile of river frontage and 3 incredible swim spots. It's a great place to come and recharge and renew.
We see lots of wildlife, we have foxes, a bald eagle, deer, ... we see vultures and blue heron and osprey who fly overhead when they catch a salmon.
We are surrounded by an incredible forest with Doug Fir, Madrone, Cedar, Oak, the Pine species and Manzanita.
We are surrounded by beautiful scenery in all directions! We are close to the Redwoods, The Oregon Caves and so much more. We are close to major cities such as Grants Pass, Medford, Crescent City and Ashland.
MORE ABOUT CEDAR BLOOM...
Cedar Bloom was purchased in the spring of 2017 by Spirit Weavers Gathering as a place of peace and healing, for all walks of life. Spirit Weavers is an annual womens gathering which happens once a year each June. We host over 1,200 women in just two weeks on the land. We are located on the Illinois River just outside Cave Junction, Oregon. The town is just a 5 minute drive from camp so everything is very accessible.
Our Main House was built in 1962 and retains the flavor of the 60's with a beautiful Mid Century Modern feel. It currently houses Agustin and Mea and their nine year old daughter Naia.
FIRST NATIONS PEOPLE OF THE ILLINOIS VALLEY
For thousands of years, the Takelma people lived in the Illinois and Rogue River valleys, what is now known as Josephine County. They lived in small bands close to the land. Interior southwest Oregon has pronounced seasons and the ancient Takelma adapted to these seasons by spending spring, summer and early fall months collecting and storing food for the winter season.
Salmon was central to their food source and way of life. The salmon diet was supplemented by game, such as deer, elk, beaver, bear, antelope and bighorn sheep. Smaller mammals, such as squirrels, rabbits and gophers, might have been snared by both men and women. They gathered the root of the Camas plant, part of the asparagus family, as well as acorns from the two native species of Oaks, the Oregon white oak and California black oak. Other vegetation included manzanita berries, pine nuts, tarweed seeds, wild plums and sunflowers. The Takelma are also known to have cultivated a native tobacco plant, but otherwise relied on the fruits of the wilderness for their survival. The main utensils included horn, bone and wood-made implements and a great variety of baskets constructed generally by twining on a hazel warp. Stone was used in the making of arrowheads and pestles. The clothing and personal adornment of the Takelma was similar to the tribes of northern California. Notable characteristics include facial painting, red-headed woodpecker scalps for men and basket caps for women. The women also tattooed the skin in three stripes and men tattooed the left arm.
European Settlement of the Illinois Valley began by the 1830's, as the gold and logging industries developed. By the end of 1856, the traditional residents of the Rogue and Illinois River valleys were forcibly removed and relocated to the Siletz Reservation on the central Oregon coast. The Takelma were joined on the reservations by their neighbors, the Athapaskans and the Shasta, as well as tribes from even farther away, such as the Coos and Tillamook. It is reported that by 1906 less than ten Takelma were alive and able to speak their native language.In 1994, for the first time in over 140 years, an ancient ceremony took place to welcome home and give thanks for the returning salmon, on the Kanaka Flats of the Applegate River. People of all heritages were welcomed at the annual Salmon Gathering on the Applegate River until 2006. In 2007, the ceremony was moved to the place where it was held for thousands of years: the Tilomikh (Powerhouse Falls), on the Rogue River near Gold Hill, Oregon. Since then, the ceremony has taken place annually in its traditional location, demonstrating that the Takelma culture is alive and will continue into the future.
Today, Takelma descendents continue to reside on or near the Siletz and Grand Ronde reservations. The Pilgrims brought back the Salmon Ceremony to Southern Oregon. Due to the Pilgrim's contribution in returning the Salmon Ceremony to Jackson County, Agnis Baker-Pilgrim is known to some locals as the 'Keeper of the Sacred Salmon Ceremony. Agnes, one of the oldest grandmothers of the International Council of the 13 Indigenous Grandmothers, has returned to the Rogue Valley and today her voice can be heard strong and clear, proving that the spirit and blood of her people are still with us.
PLANT & ANIMAL RELATIONS
We are very fortunate to be surrounded by a widely diverse population of flora and fauna. As caretakers of this sacred land, we feel a strong responsibility to honor our plant and animal allies by not only protecting them and their habitat, but also to help educate others about what lives and grows here by providing people with opportunities to experience the beauty of these plants and animals for themselves. For this reason, We are honored to host the many different groups who will gather here on this land for learning and communing with the nature that flourishes here. We feel very fortunate to be involved in this process of helping promote a sustainable and abundant future for all living things on this planet by sharing knowledge and skills from the human past that can make a sustainable lifestyle a reality for everyone everywhere.
The animals here include, but are not limited to deer, foxes, coyote, raccoon, skunks, and sometimes black bear though we havent seen any yet! The birds that surround us are migratory geese, quail, wild turkeys, hawks, ospreys and eagles. The fish that call the Illinois River their home are the Salmon People, Steelhead & Trout along with their friends the otter and ducks. The Land is a no-hunting zone so the animals here are abudant and safe.
The plant life here is incredibly diverse. This land is home to many native grasses, ferns, and berries, wild flowers, as well as many other edible and medicinal plants and fungi such as mugwort, self-heal, soap root, and a variety of mushrooms. The tree population is a blend of hardwoods like Manzanita, Madrone, and several kinds of Oaks along with mature Fir, Pine, Cedar trees, Alder, Maple and Apples. With special attention to management of non-native and invasive plants, Spirit Weavers is committed to maintaining a well balanced forest ecosystem with high biodiversity.
TIMES Please clean up and check out of your site by 12:pm on the day of your departure. You can check in by 2:pm on the day of your arrival.
CLIMATE & THE ILLINOIS VALLEY Cedar Bloom holds the heart during the summer. Temps can range from 75-95 during the day and generally cools down to the 70's during the evenings. Swimming in the summer months is delicious. We have mostly pebbly beaches and a jagged rock and sand beach right where the Swimming hole is. The river is chilly until late June and it cools down again in late September. 
NEIGHBORS There is another campground right next door but since we have 100 acres, you never really see a soul besides us! Please use our pathways to travel property next to us, and respect the privacy and tranquility of our neighbors by not keeping late hours or playing loud music. 
EMERGENCIES If someone needs to reach you in an emergency, Cell phones work great on the land. If you don't get service and need to contact someone our land phones are available.
SHOWER HOUSE & SAUNA We have twelve showers total.  The first shower house is open showering with 4 showers and the 2nd shower house has 8 stalls. You are also welcome to use the sauna throughout your stay.  
COMPOST TOILETS  We have 10 amazing clean Eco Zoic Composting Toilets.  Please remember to put the seat down on the lid after each use to prevents flies from getting in.  One fly in the toilet can destroy the whole eco system we are creating. 
FOOD & WATER Please bring your own food to camp. Town is close so if you need to run errands to grab food its a short drive away. All of our water is on a well and is super clean and ran through a UV light.  Please keep food and garbage out of the reach and smell of animals so we don't have animal visitors at night.  
GARBAGE If you pack it in, please pack it out when you leave.  
FIRES Depending on the time of year, cooking fires are permissible in the fire pits provided. June-Sept there is usually a fire ban in the county.  Please NO bonfires. We have fire wood in the forest around the meadow for use for cooking fires but please bring your own wood to the land. We also have wood available for purchase. 
PETS  If you must bring your pet, please message us before hand.  
THE RIVER & SWIMMING HOLES We have a mile of river frontage and there is tons of space for all.  Keiki Beach located down the trail from the sauna is the more shallow and flatter part of the river.  This is a great spot for families!  Mermaid Rock which is located down the trail to your left of the main house is our large swimming hole with deeper waters.  This part of the river is clothing optional.  Please be aware of the rocks down at Mermaid Rock & Dock.  The rocks are tricky to walk on for both adults and especially children.  Please keep your eyes on your children at all times while at the river.  Feel free to bring rafts to play on.  
GRATITUDE We feel honored to be stewards of this land. One of our main visions for this land is to protect its cultural and environmental heritage. We are excited to share about the native food forest we will be cultivating for the local community and beyond. We will also be placing the land into a conservation trust so no logging or future development can occur. For the many years to come, we will explore the ways can live in harmony with the natural world for the greater good of people and the plants and animals we depend on. We welcome you to Cedar Bloom!  
FOR MORE INFORMATION ON THE LAND AND EVENTS HERE, PLEASE VISIT CEDAR BLOOM FARM & THE SPIRIT WEAVERS GATHERING WEBSITE OR ON INSTAGRAM @cedarbloomfarm
Campsite area
Bring your own tents, vans and truck campers
Check in: After 2PM
Check out: Before 12PM
Cancellation policy: Moderate
On arrival: Meet and greet
Minimum nights: 1 night
Accepts bookings: 6 months out
Response time: Within an hour
Response rate: 100%
Activities
Offered on the Host's property or nearby.
Terrain
Natural features you'll find at Cedar Bloom Open Camping in Oregon.
Places to see near Cedar Bloom
This listing has no reviews yet.
If you stayed here and have some insider info for us,
let us know
!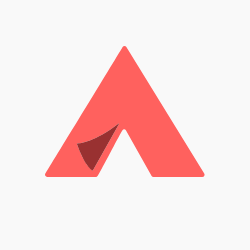 Kate H.
recommends this listing.
(Dispersed site)
Had a great experience here camping under the stars. A much needed time to unwind and appreciate the quiet of being out on the river. This was a perfect spot for privacy, solitude and a little of the comforts of home. The clean and efficient covered kitchen, bathroom, drinking water were a nice bonus as well. The small family is a very sweet, hard working and welcoming group. Lots of wildlife and even a couple of kittens. The river was absolute tranquility. I recommend sleeping out on the shore, it was lovely. Overall, my favorite camping spot this summer.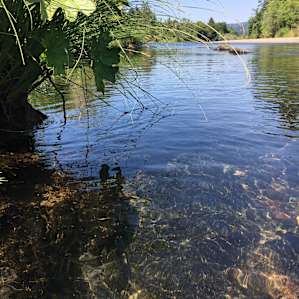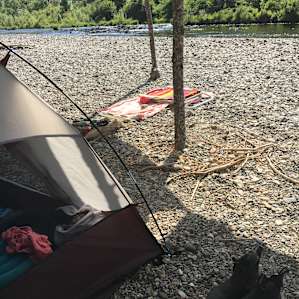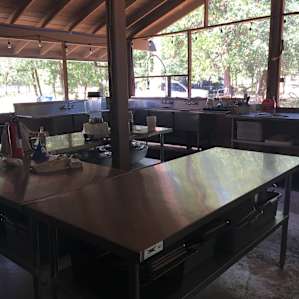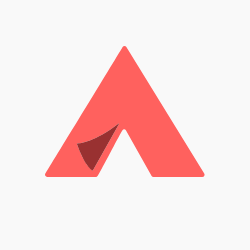 The property here is beautiful. All of the trees, the privacy, and the river were a welcome retreat! So lovely and peaceful. Mea was a wonderful host. She was excellent at prompt communication and has an easy-going nature. I can't wait to come back!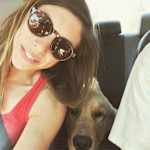 Ashley M.
recommends this listing.
(Dispersed site)
Cedar Bloom was amazing! It's such a special property, and Mea and Agustin have a beautiful vision. We were lucky enough to visit while they were making major improvements - a brand new cedar sauna right by the river (for ideal cold plunge sprints), a beautiful new open-air bathhouse, several A-frame cabins for sleeping, a stage, etc. This place is spectacular and only going to get better. The commercial kitchen was convenient and well-stocked with pots, pans and utensils. We made a fire in the evening and enjoyed the sauna and sunny deck in the morning. Everyone was so warm and kind.
There is some poison oak around, though I know they are working to get rid of that. But be aware!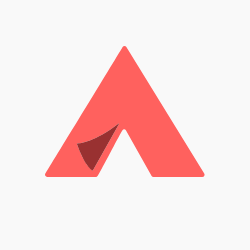 David R.
recommends this listing.
(Dispersed site)
Tent-camped here with my two young kids (8 & 5). It was like camping in a park-like setting, with incredibly gracious hosts. The owners' 7-yr old daughter ended up playing with my kids a lot over the 2 days, which was an added bonus. Very un-crowded, very laid-back. We're already figuring a time to go back.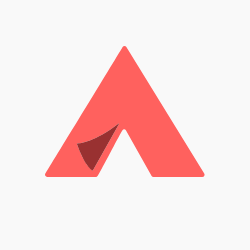 Jazmyne L.
recommends this listing.
(Dispersed site)
The stay my fiancé and two pups had at Illinois River campsite was absolutely amazing! We are hoping to make this one of our annual spots; if life goes as planned ;)
We were able to camp right on the river which was ablsoutly amazing, (it was kinda a hike down there, but we're also two out of shape city folk, and luckily for us, Mea let us use her wagons/carts!
The only thing I regret is not texting Mea earlier to say goodbye in person, we assumed not to bother her cause we left the property pretty early (for us anyways), but when I texted after we left I realized she would have probably came out on our departure for goodbyes 💛)
Overall it was an amazing experience (especially for our first time to Oregon) and we definitely would (will) go back!! Thank you Mea for everything
Good vibes your way!!
Seda M.
recommends this listing.
(Dispersed site)
Words cannot describe the deep Shakti essence that ripples from Cedar Bloom Farm. Because I am the only woman in a house of 4 boys I did not realize how rigid and hardened I have become in that constant energy polarity. To fall into the curvature of the feminine space: soft, present, relaxed, and gentle. Wow. I feel so nourished by the sacred lands; much more than I anticipated for just a quick get-a-way camping trip!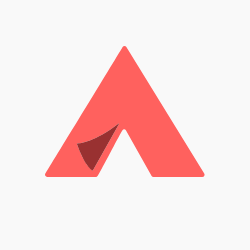 Real camping not glamping
Kevin L.
recommends this listing.
(Dispersed site)
We stayed here in early October 2019 on our annual motorcycle camping trip. We were on our way to Albion California and needed to find a place to camp along the way. I found this place and made the reservation for one night there. This is definitely one of the best private campgrounds that I have had the pleasure to stay at. While it has the amenities that you need like toilets a shower. This place even had a sauna, access to a industrial style kitchen. There were small a frame type buildings up in the trees that apparently you could rent. I think I even saw a log cabin on the property. Not actually positive because we arrived late in the afternoon and did not get to explore everything it had to offer. One of the things I like most about this campground was it was not like any traditional campground with marked off spaces. We were allowed to camp wherever we wanted to and found a great flat spot up in a grassy area. The other thing I like most about this campground is I did not see any hook ups for RVs. This is truly camping!
This place was so amazing that after we reached our destination in California we told our fellow riders that we met there all about it. It was then decided that our annual ride in 2020 that we wanted to make this location our gathering spot. Looking forward to spending a few days there in 2020.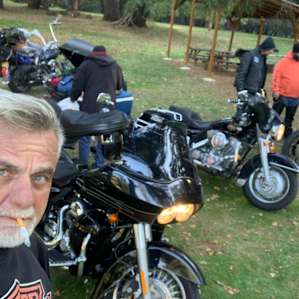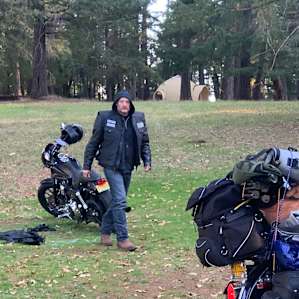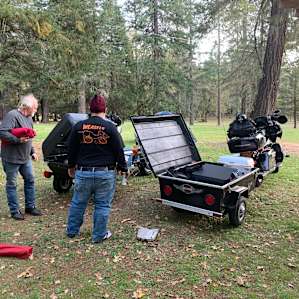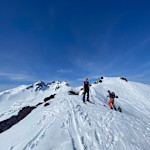 Isabel B.
recommends this listing.
(Dispersed site)
I had a wonderful stay at cedar bloom! The directions were excellent and the host was very accommodating upon arrival. I was able to camp on the river and the host was kind enough to provide me with a wagon to carry my camp items down to the river. So much solitude at the river listening to the birds and river. The swimming hole is also excellent! Literally have nothing but good things to say about this place, I can't wait to be back ❤️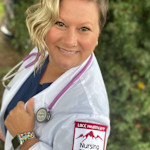 You won't be disappointed!
Sarah S.
recommends this listing.
(Dispersed site)
I took 3 teenagers to cedar bloom for 3 days. We left camp to go explore and our site felt safe enough to leave for the day, and there's so much space out camp was nowhere near other campers. The river access is sublime! It was peaceful and so zen. We enjoyed the sauna the community kitchen was great (we didn't need to use it). I recommend this spot for my friends upcoming wedding there's a cute little alter and seating overlooking the river! There's tons of wildlife to see and everyone was friendly! We will definitely be back!
Just a couple things- the toilets were great but often out of TP, and the showers were also great but didn't work some of the time- luckily there are a few shower choices so really no big deal.
This place was top notch in my book! I highly recommend a visit to cedar bloom.
Lists including Cedar Bloom Open Camping
14 camps including Shangri-La 14 Foot Yurt/Soak Tub and Cedar Bloom Open Camping
---