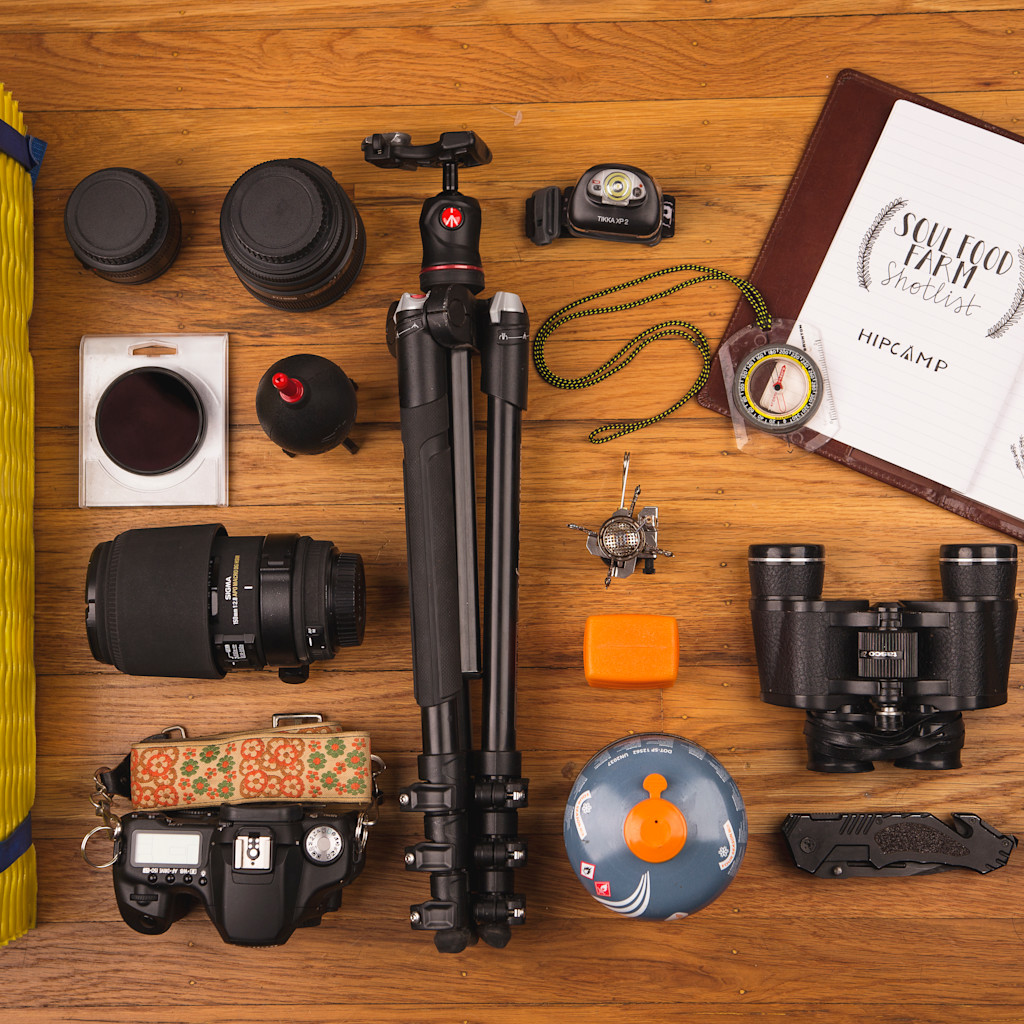 Field Scouts are camping aficionados, outdoors-lovers, and, most importantly, talented visual storytellers. Your work not only beautifies our website, listings, and marketing channels; it also enables us to tell Hipcamp's story and connect thousands of people with nature. We couldn't do this without you ❤️
So, whether you're a new Field Scout or an aspiring one, we've assembled a short guide on how to succeed. You can also check out our Field Scout FAQ. We're always trying to improve the Field Scout program, so if you've got ideas on how to do this, drop us a line.
---
Aspiring Scouts
---
We encourage photographers with a love of the outdoors to apply for our Field Scout program. We're specifically looking for professional photographers who know how to tell stories with their photos.
We'll also need an online portfolio and Instagram account to go off of, so if you're interested in the Field Scout program you might want to curate your photos to reflect your ability to tell stories in the outdoors.
Checked off all of these boxes? Great! Apply here.
---
Approved Scouts
---
1. Before You Scout
Before heading out on your trip, quickly look over the Style Guide, Photo Checklist, and FAQ.
We ask that you always include these 3 types of photos:
Zoomed-out shots of where you are staying—A tent in a field, a cabin, a yurt, etc. If possible, we would also like a person included in the frame. Please take one horizontal, for site use, and one vertical for social media use (read: Instagram exposure!)
Surrounding landscape—You can get creative here, but think like someone looking for a place to camp. Would you rather see a closeup of a river rock, or a dreamy winding river with someone swimming in the distance?
People + activities—We want your photos to tell a story to Hipcampers. Maybe that story is friends playing guitar around a campfire, preparing a meal, or going for a hike. No story is too small, but we ask that you highlight the property at the same time. For instance, we aren't looking for a close up photo of a s'more, we want a photo of your friends making s'mores together, with rolling hills in the background.
2. Arrive Early
Make sure you give yourself enough time to adequately shoot and experience a property—this means arriving no later than early afternoon. Try not to arrive as the sun is setting and after it has set; you'll have missed that prime Golden Hour.
You never know what the weather will be like the next day, so it's always a good idea to get as many site shots as you can the day you arrive.
Another thing to keep in mind— while we encourage Hosts to provide accurate directions, remote destinations often mean bad service, GPS fails, and a little bit of adventure. Get ahead of potential problems and account for these delays when you're planning your arrival.
3. Cherish the Golden Hour
When the sun is high in the sky, light and shadows can be harsh and unflattering for outdoor photos, but great for interior shots (if you're shooting a structure.) This way, you can focus on outdoors when the prime lighting hits.
Not sure when Golden Hour is? You can use this nifty little tool to find out.
4. Tell The Land's Story With Your Photos
Your photos will shape how someone views that Hipcamp listing, so tell an engaging story with them. This could include photos of friends cooking a hearty camp meal, playing music by the fire, exploring the nearby forest, or making your first cup of coffee as the sun rises.
5. Editing and Uploading Photos
Here are three styles we like to see:
The brighter, the better: We know the weather isn't always going to be sunny, but if you could bump up your exposure a little, it'd make a huge difference. This sometimes means dropping down the contrast a little too if the exposure looks too sharp.
People: When selecting between a tent shot with a person and a tent shot without, upload the one with the person. Keep the poses natural and candid, as if your subject didn't know you were taking their photo. Please note: We do not need portraits of close-ups of your friends/campers. We do love portraits of Hosts.
Keep it warm: We want Hipcamps to seem warm and inviting, so even if it's a bit cloudy, feel free to bump up the warmth. Avoid dark, moody fade, high-clarity, and coolness in your processing style.
Here are three main things to avoid:
Black and white: Please keep all photos in color.
Only providing vertical images: Currently, horizontal photos display best on the site. That being said, we try to use mostly vertical images for our social feeds, so please provide a healthy mix of both vertical and horizontal shots. As a rule of thumb, we need at least one zoomed-out horizontal shot of wherever you are sleeping— your tent, yurt, cabin, etc., and 4 other horizontal photos of the Hipcamp that give a comprehensive overview of the amenities at the listing for us to display on the site.
Too moody: As much as we love the PNW vibes, we want to avoid anything that darkens your photos too drastically. That doesn't mean we want things to be overexposed but adding unnecessary fade, clarity, mood, or darkness makes the property seem less inviting.
Failing to deliver the style of photos we request above could result in removal from the Field Scout program.
Once you've edited your photos, it's time to upload them:
Files under 10MB tend to upload easiest
Go to each listing page and click "Add Photos" to upload.
You can only upload 10 photos at a time, but after uploading those, you should be able to easily add another round of 10.
Add captions to help fellow campers better understand your experience 🙂
If you're having issues re-sizing your photos, check out our photo sizing guide.
6. How to Get Paid
Within a day of your trip, you'll receive an email with the subject, "Get Paid for Scouting ___________." Open this! Inside, you'll find three steps towards getting paid:
Provide recommendation of property (yes/maybe/no)

Submit your review for this property

Upload your photos to each listing
Please complete all steps within the same session. For instance, if you only have time to upload the photos, but don't have time to upload your review at that point, please wait until all deliverables are complete, and then submit them together. This makes it way easier for us to track your listing, and therefore makes it way easier for us to pay you. 🙂
Assuming you have completed these three tasks, payments go out on the third Wednesday of the month.
If this was your first scouting trip with Hipcamp, you'll receive a contractor setup email from Zenefits a day or two before the third Wednesday of the month. Learn more about payment here.
---
Have more questions about Field Scouting?
Check out our Field Scout FAQ or email us.
---
A Few Awesome Field Scout Trips
---
As a Field Scout, you'll encounter a wide variety of properties—tent sites nestled in meadows, yurts on hilltops, cabins in the woods, converted barns, roomy airstreams, towering treehouses, Shire-like grottos, and things we haven't even heard of yet. No two properties are the same.
That said, we've tried to cover a wide variety of properties here to both inspire you and provide some gentle direction. We can't wait to see your work!
Tents
Photo by Maegen Leake
Photo by Loretta Richert
Photo by Natasha Sadikin
Photo by Jenny McCabe
Van + Airstream
Photo by Megan Kantor
Photo by Madison Kotack
Photo by Trey Frye
Photo by Alex Herbig

Photos by Joe + Kathrina Merrill
---
Glamping + Yurts
Photo by Nikki Neumann
Photo by Ezekiel Gonzalez
Photo by Taylor Higgins
Photo by Rachel Havekost
---
Cabins
Photo by Ann Nguyen
Photo by Dylan Peterson
Photo by Juliana Summers
Photo by Rachel Havekost