---
We'll never ask you to conform to a specific style of photography in the Field Scout program. We believe that each unique style helps weave the diverse visual fabric that defines Hipcamp :)

We've only got a few recommendations to help keep the vibe cheerful and welcoming:
The brighter, the better: Camp/glamp spots look 100 times more inviting when there's lots of light. We know the weather isn't always going to be sunny and clear, but if you could bump up your exposure a little, it'd make a huge difference.
People! People! People!: To us, a photo is almost always better when there's a person in it. Photos with people are stronger at conveying your story/experience while allowing campers to really imagine themselves at the site.
Keep it natural: No need to add dark filters or tint a naturally beautiful scene.
Looking for some inspiration? Check out a few of our favorite Field Scout trips here.
Photos, clockwise: Kelly Sparks, Ezekiel Gonzalez, Maddy Minnis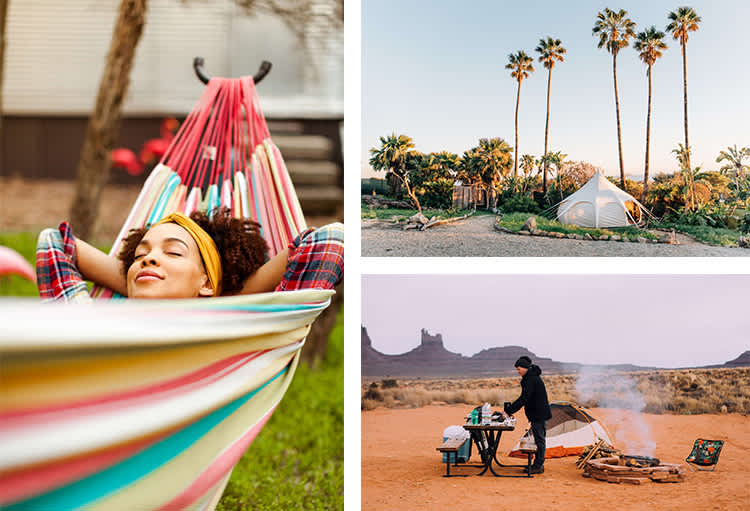 ---
There are whole books—libraries, even—for this kind of thing, so we'll try to keep it short.
These days, you can take some incredible photos with entry level DSLRs (not including iPhones or point-and-shoots), so don't stress if you can't afford a fancy rig yet. However, if you are in the market for some new equipment, here's what our top scouts are using now:

Body: Canon 5D Mark II + III, Canon 6D, Nikon D750, Nikon D610
Lens: 50mm (portraits—this is a worthwhile investment and usually won't set you back more than $100), Canon EF 24-105mm (everything!), Nikon 28mm (wide shots)
Tripod: GorillaPod ($50), Manfrotto 6534 Compact Action Tripod ($100)
Filters: Polarizing (cuts glare!), ND (improves quality of landscape shots and depth of field)
Bags: Peak Design Everyday Backpack ($260), PRVKE Series ($185), ONA Canvas packs ($300-$450),
Useful extras: Peak Design Capture Pro clip ($80), intervalometer (timer remote control, great for long-exposure)
---
No two listings are the same, so we don't expect your photos to be the same for each Field Scout trip either. The listing you scout might be a cleared space for your tent or a physical structure; it might be on a hilly farm or deep in the woods; it might be rainy or cloudy. We trust in your ability to deliver great photos no matter the challenges, but here's a checklist of photos we like to see.
One hard-and-fast rule? We like these three types of photos:
Where you're sleeping: This should be a nice wide shot of where you'll be pitching your tent or resting your head. This shot should never be empty (as in, there should always be a tent or sleeping structure in the frame, plus a person, if possible.)
Surrounding landscape: What type of landscape and vegetation should the camper expect? Forests, beaches, meadows, craggy cliffs, shrubby deserts—even better if you can get a person in the photo interacting with this landscape.
People + activities: These are some of the most important photos you'll take. We want to see you and your friends interacting with the property, whether it's hiking, playing with farm animals, getting a tour, cooking, or hanging by the fire.
Photos, counter-clockwise: Maddy Minnis, Ezekiel Gonzalez, Andrew Shepherd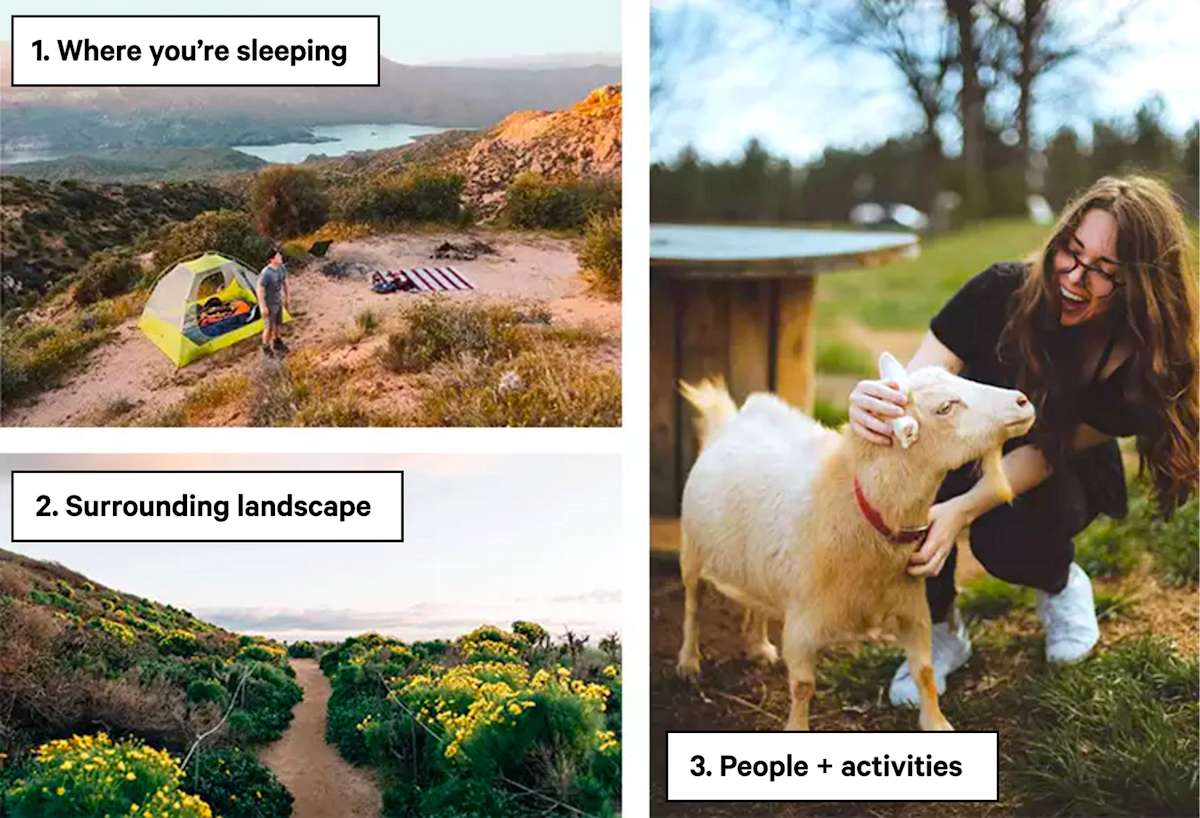 ---
Being an outdoor photographer gets pricey. That's why we try to help out our Field Scouts with gear discounts. Once you've completed your first trip, you can score discounts to brands like:

Peak Design
Goal Zero
CameraLends
MiiR
Topo Designs
GSI
Biolite
Completed at least one trip and want access to the full list? Email fieldscouts@hipcamp.com.
---
Post-processing can turn good photos into spectacular ones, so it's worth the extra time. Here's a list of tools you might find useful:

It's also important that you keep your file size under 500kb, whether you're uploading to Hipcamp or to your online portfolio:
We don't recommend editing photos on your phone when uploading to Hipcamp listings, but if you're looking for some quick apps to up your 'Gram game, here are a few:
Photo by Madison Kotack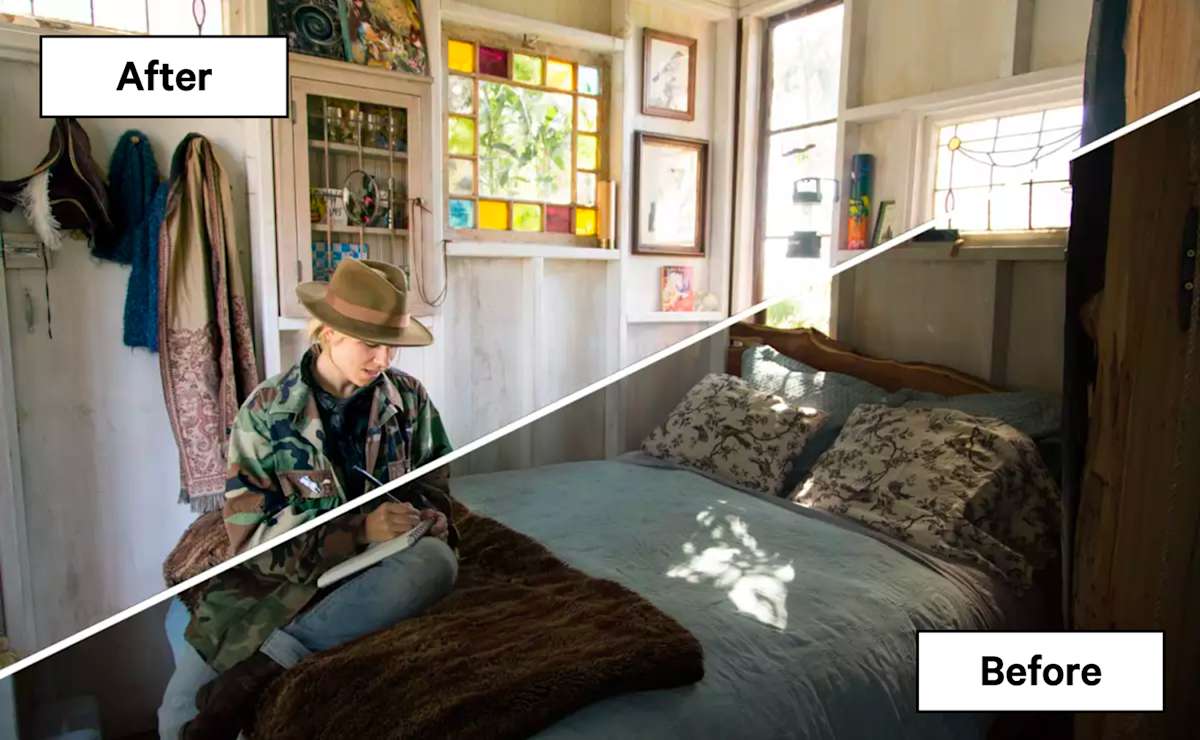 ---
Our in-house photo editor will provide feedback on every Field Scout trip you take, helping you hone your photography skills. Feedback will be split into two categories: "Favorite quality of your photos" and "Things we'd like you to explore." If you'd like more detailed feedback on your work, simply reply asking for some :)
Photography how-to guides:
Portfolio reviews:
Photography festivals:
Photography classes and workshops:
Photos by Garrett Super and Kendall Martin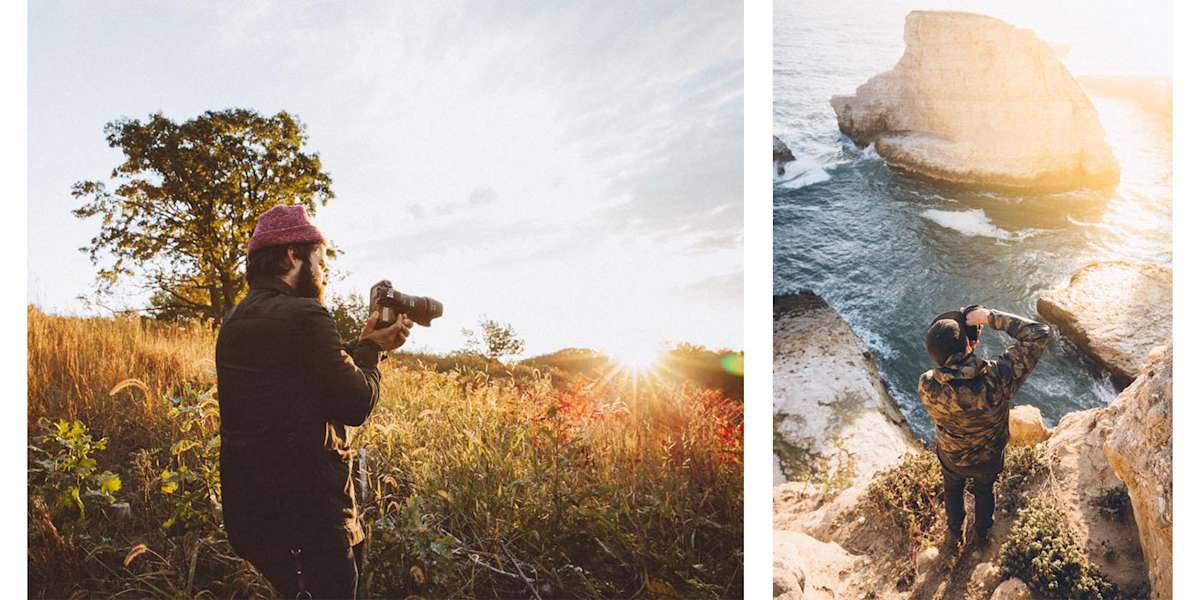 ---
Breaking into the world of photography is just a matter of getting your work out there. Field Scouting is a great way to showcase your work and get connected to all kinds of outdoor brands, but here are some other ways to boost your presence:
Giveashot.org: Donate photos to worthy environmental non-profits and reap Peak Design gear + fame!
500px: Submit your best work to the stock photo marketplace and make them available for licensing.
Photographers Without Borders: Pick up photo assignments with grassroots organizations worldwide.
Women Photograph: Resource for female documentary and editorial photographers and the people who would like to hire them.
Exposure.co: Post your visual stories for everyone to see. (Psst! After completing one trip, Field Scouts get a Pro subscription for 6 months for free.)
Two Bright Lights: Get published in some of the 400 magazines and blogs in this network.
PrettyInstant: Get paid for photography gigs in your area.
Through the Field Scout program, photographers have been able to score free gear from and work with brands like Eureka!, Peace Van Rentals, Poler, Topo Designs, Peak Design, and more.
Photos by Evan Kubena and Jack Schlinkert.

Main photo by Kelly Sparks.
---